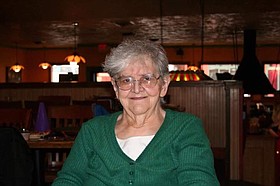 Betty Jane Hearn Aplin
April 20, 1933 - May 14, 2016
Betty Jane Hearn Aplin passed away on May 14, 2016. A service was held May 21 at Grace Baptist Church in White Salmon.
Betty was born in Stafford, Kan., on April 20, 1933, to Russell and Lola Hearn. The family moved to White Salmon when Betty was 3 years old. At the age of 6, the family moved on to the property that became the Hearn Ranch and they ran the Hearn Fruit Stand.
Betty graduated from Columbia High School in 1952. She worked at the cannery in Hood River and at Mrs. Arnold's Store. In 1962, Betty married Larry Aplin. Betty and Larry raised three daughters. Betty worked for Jantzen until the plant closed. She then went to Columbia Gorge Community College at the age of 55. Betty earned a certificate in office assisting. She was proud of this accomplishment and joked about going to college with her kids.
Betty had a deep love and faith in Jesus as her Lord and Savior. She considered it her duty to share this faith and win others for the Lord.
Larry and Betty had many friends and were very outgoing people who square danced, played cards and went camping. Betty loved young people and most called her Aunt Betty. She was a sports fan who rooted for the Seattle Seahawks, the Portland Trailblazers and the Boise State Broncos. Larry called Betty his "Betty Boop" because she collected Betty Boop things. Betty was a member of the River of Life Assembly of God Church.
Betty was preceded in death by both her parents, her older brother Ottis, her sister Anna Fuwell, and her beloved husband Larry. She is survived by her daughters, Lela Gugin (Don) and Tracy Dillingham, three grandchildren, Collin Dillingham, Saige Dillingham and Jameson Baehler, two great granddaughters, and nieces, nephews and cousins. The apple of Betty's eye was her great nephew Odie Rosenburg.