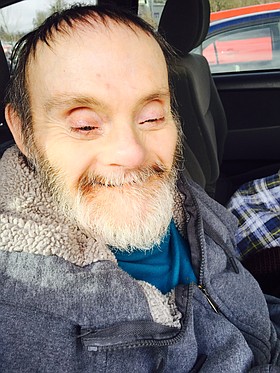 Nathan ""Jay Jay" " Steinbock
Hood River
June 9, 1950 - May 30, 2016
Nathan "Jay Jay" Steinbock passed away on May 30, 2016, at Providence Hood River Memorial Hospital. He was 65 at the time of his passing.
Jay Jay was born in Salam, Ore., on June 9, 1950, and eventually moved to the Gorge. He moved to Hood River in 1992 from The Dalles. When he first moved to Hood River, he moved into Taylor Street group home. After several years, he moved to Eugene Street group home and then to Kropp Court group home. Jay Jay lived at Kropp Court group home for approximately two years before his passing. Jay was very much loved by the staff that helped support him.
Jay Jay spent many of his days at Pine Grove Center. There he enjoyed spending time with his peers and staff. He loved joking around and shaking everyone's hands.
He could always be seen walking around with a stuffed animal. He loved joking with staff, had daily "gun shows" of showing off his muscles and "punching" staff in the stomach, or giving head bumps and side hugs. Jay Jay enjoyed coffee and sneaking sips of everyone else's coffee. He also loved going out to dinner at the Charburger in Hood River.
Jay Jay had a contagious smile that always made people around him happy.
A memorial service will be held at Anderson's Tribute Center on his birthday, Thursday, June 9 at 1:30 pm.
Arrangements are under the direction of Anderson's Tribute Center (Funerals • Receptions • Cremations), 1401 Belmont Ave., Hood River.
Please visit www.AndersonsTributeCenter.com to leave a note of condolence for the family.

Services for Nathan Steinbock
June 9, 2016

Memorial service: 1:30 p.m.
Anderson's Tribute Center.