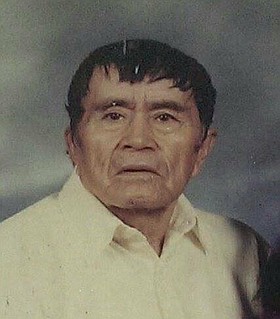 Jose Andres Zaragoza
Hood River
November 30, 1920 - June 6, 2016
Jose Andres Zaragoza passed away in his home in Hood River, Ore., on June 6, 2016, at the age of 95. He was surrounded by his daughter, Maria Luisa Magaña and spouse, Lina Zaragoza Alvarado and many, many family members.
In addition to his daughter and spouse, he is survived by eight grandchildren, Ana Maria Rangel, Arturo Magaña, Lupe Magaña, Miguel Magaña, Victor Magaña, Juan Magaña, Delia Magaña and Rosaura Magaña, as well as 24 great-grandchildren, Jorge Erasmo Rangel, who is with the Navy service, Gunners Mate Third Class, stationed in Mayport, Fla., onboard USS Farragut, and Argentina Rangel, Kelly Magaña, Monica Magaña, Claudia Rosales, Salvador Rosales, Jasmin Rosales, Nestor Rosales, Jessica Magaña, Diana Magaña, Michelle Magaña, Lily Magaña, Daisy Magaña, Damian Magaña, Marcos Trejo, Danny Trejo, all of Hood River; America Rangel of Portland, Ore.; Andres Magaña, Aiden Magaña, Cruz Magaña, and Enzo Magaña of Washougal, Wash.; and Eric Lopez, Alex Lopez, and Arianna Lopez of The Dalles, Ore. Additionally, Jose is survived by 10 great-great grandchildren, Melina and Marianna Valadez, Stephanie Reyes, Allison Reyes, Alexa Reyes, Jaiden Guzman, Isabella Villegas, Jocelyn Rosales, Ixtel Rosales and Aranza Rosales, all of Hood River.
Jose was born in Magallanes, municipio de Penjamo, Guanajuato, on Nov. 30, 1920, to Juan Zaragoza and Nemesia Magaña. He is preceded in death by his parents and his siblings, Raymundo Zaragoza, Francisca Zaragoza, Antonia Zaragoza, Maria Zaragoza and Lucio Zaragoza.
Jose was a very hard working man up until his 90th year. He immigrated to the US in 1980 and was employed with Dickey Farms in Washington for many years. He worked as a farmer in agriculture all of his life and enjoyed staying busy. Some of the things he enjoyed doing were gardening, listening to radio novelas, was very social, enjoyed family gatherings, loved the outdoors and loved to reminisce about the good old days in his hometown. He loved all of his family and had a substantial role in raising his grandchildren. He was very loving, caring, nurturing, a very respectful person, very well-liked by many and had a great sense of humor. He will be dearly missed.