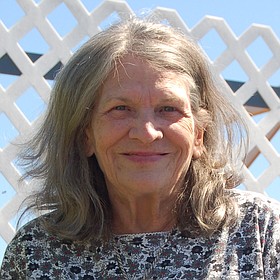 Anne Rue Vance
September 29, 1931 - April 24, 2016
Anne Rue Vance (née Freeman), age 84, died Sunday, April 24, 2016, in the company of her children at Kaiser Hospital in Clackamas, Ore.
Born Sept. 29, 1931 in Fluvanna, Texas, to Robert Lee Freeman and Leola Freeman (née Hughes), Anne was raised on a farm along with her nine brothers and sisters. During World War II, her family moved to Richmond, Calif., where her father found work in the shipyards. When the war ended, they moved to New Mexico to take up farming again. After marrying the painter and cartoonist Norman Vance, Anne became the mother of four children and settled in Southern California, where she worked for many years selling appliances. When they both retired, Anne and Norm moved to Hood River, Ore., and opened the Norman Kingsford Vance Art Gallery on Cascade Avenue. After having lived in many towns and cities throughout her life, she found the greatest happiness in Hood River and was often heard saying as much.
Known for her generous spirit and gentle, loving personality, Anne was a proud Democrat who wrote passionately about politics in letters to the editor that were published in numerous newspapers. She also wrote poems that explored the beauty and meaning of nature and the everyday trials and joys of life. In 2010 she self-published a wonderfully insightful and moving collection of poetry in a book titled "Something Bright and Beautiful/Gravel Nuggets."
Anne is predeceased by her beloved husband, Norman Vance, and is survived by her four children, Shannon Vance, Tamsen Armstrong, Stuart Vance, and Lara Schoen, her five grandchildren, Courtney Traub, Alex Traub, Allison Gray, Maggie Armstrong, and Lily Vance, her great grandchild, Sophia Traub, and her loving sons- and daughter-in-law, Jeff Armstrong, Martin Schoen, and Lisa Erbach Vance, all of whom brought her great joy and fulfillment.
A burial service is planned for Wednesday, July 13 10:30 a.m. at Idlewilde Cemetery in Hood River. All are welcome.
Services for Anne Rue Vance
July 13, 2016

Burial: 10:30 a.m.
Idlewilde Cemetery in Hood River