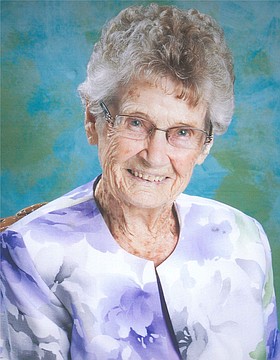 Margaret "Mimi" Cooper Annala
Hood River, Ore.
June 8, 1915 - June 10, 2016
Margaret Cooper Annala and her twin Maybelle Cooper Young were born June 8, 1915, in Hood River Ore. Her parents, Arthur Berry Cooper and Maude Pearl (nee Douglas) Cooper, lived and worked in the valley for much of their lives. Grandpa Cooper worked many jobs in the local fruit industry. Margaret, known as Mimi, had six other siblings in addition to her twin: Ross, Bud, Audrey, Louise, Jane and Jack. Arthur liked buying up fixer uppers to be resold, so Mimi and her siblings attended most of the schools in Hood River Valley over the course of their school years. Mimi graduated from Hood River High School, which is now Hood River Middle School. She went on to attend Oregon State for one semester and then completed business college in Portland. She worked for a while at Montgomery Ward in the business department. She married Arvo Russell Annala, Oct. 17, 1942, and moved back to Hood River. For most of their married life, they lived in Oak Grove, where Arvo was an orchardist, and Mimi worked with him in the orchard.
Mimi was a world traveler. She and her husband visited over 100 countries before his death, and she continued to add to her list of countries, eventually visiting all seven continents. She was also an avid photographer, and had many of her images published in books, magazines and calendars. She loved entering her pictures in the local county fair, and was always proud of the ribbons she received. She was an accomplished gardener, and took pride in keeping her lawn and garden looking beautiful.
She was a member of the local Seventh-day Adventist Church for over 70 years. She and Arvo were also members of the local camera club.
She was the consummate homemaker: she cooked, and baked; grew and canned and froze most of the family's food; she sewed many of her own and her children's clothing.
In her later years she loved going to the swimming pool with her friends for water aerobics, and afterwards to "The Bell" for lunch. And when she could no longer drive, she caught the CAT bus for rides to and from her home.
Mimi is survived by two daughters, Judi L. Baker and Jan Elizabeth Annala van Hoy, Jan's husband, Roger van Hoy, and her loving kitty, Angel.
She had three grandchildren, Jennifer Amos and her husband Ryan, Phillip Baker and his wife Vika, and Charles Rurangirwa and his wife Josephine. She also had nine great-grandchildren, and many nieces and nephews and their families. Jane Franz Rice is her only surviving sibling, at 95 years of age.
Preceding Mimi in death was her husband, Arvo, her parents, Arthur and Pearl and her siblings, Ross, Bud, Audrey, Louise, Maybelle and Jack.
Donations in Mimi's honor can be made to Project Patch, 2404 East Mill Plain Blvd. Suite A, Vancouver, WA 98683, or Heart of Hospice, 2621 Wasco St., Hood River, OR 97031.
Mimi was awaiting the Lord's return. "He which testifieth these things saith, Surely I come quickly. Amen. Even so, come, Lord Jesus." — Revelation 22:20
Services to celebrate Margaret's life are planned for 2 p.m., Saturday, June 18 at Anderson's Tribute Center (Funerals • Receptions • Cremations), 1401 Belmont Ave., Hood River. A private family graveside service at Idlwilde Cemetery preceded her memorial service. Please visit AndersonsTributeCenter.com to leave a note of condolence for the family.
Mimi had a collection of frog memorabilia. Over the years her collection grew, and many of you added to it. If you would like a memory of Mimi, please take a frog home with you before you leave her service.

Services for Margaret Cooper Annala
June 18, 2016

Celebration of Life: 2 p.m.
Anderson's Tribute Center (Funerals • Receptions • Cremations), 1401 Belmont Ave., Hood River