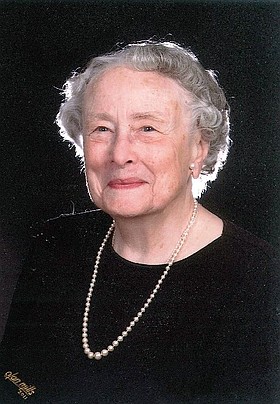 Naomi E. Foster
Hood River, Ore.
October 9, 1917 - June 9, 2016
Naomi E. (Wyatt) Foster, long time Hood River resident, died June 9, 2016, three months before her 99th birthday.
Naomi, the fourth of five children, was born Sept. 9, 1917, in Grandview, Tenn., to Frank B. Wyatt, a Methodist pastor in eastern Tennessee and southwestern Virginia, and Lena Stebbins Wyatt, homemaker, school teacher and midwife. Since Methodist pastors at the time moved frequently, Naomi went to elementary schools in Dayton, Cleveland, and Concord, Tenn., and high schools in Abingdon and Glendale, Va. She attended Hiwassee College in Tennessee, where she was the first woman to be elected student body president, and Emory and Henry College in Virginia.
Naomi had an amazing memory of impressionable experiences that she would later draw on for the lessons and stories she told her children and grandchildren. She played the piano and pump organ during her father's church services and later, as the wife of a young county extension agent, played the accordion with Grange and church music groups. She learned to drive when she was 13 and often chauffeured her father on pastoral calls and her non-driving mother on shopping trips into Knoxville.
A chance meeting with Lee R. Foster from Davenport, Wash., while visiting Tennessee relatives in 1933 altered the course of her life. In an often-told family story of their meeting, Foster was smitten when he first saw her. After corresponding for three years, he returned east where he married Naomi on Aug. 17, 1936, in Bristol, Tenn. The couple left next day for Davenport, where Lee was the County Agricultural Extension Agent. The Fosters later lived briefly in Cleveland, Tenn., and Milton-Freewater, Ore., before moving to Hood River, their home since 1949.
The Fosters were active in the community. At Asbury United Methodist Church, Naomi served on boards and commissions, taught Sunday school, and was a member of the United Methodist Women, and Happy Hands. As a 4-H Club Leader, Naomi nurtured dozens of Hood River youth. She participated in Home Extension groups, the Grange, Farm Bureau, helped with FISH, and with Lee, was a docent for the History Museum of Hood River County Historical Society. These were not only places of service, but also sources to deep and long-lasting friendships with people of all ages.
Naomi often said raising children "was the most important job in the world." She took the job seriously, bringing order to and maintaining discipline in a very busy household filled with love and compassion. With Lee, she not only supported and encouraged their five children to "do their best" in school, 4-H, church, music lessons and sports activities, but she expanded that job to work with young people in the community by giving children piano lessons, leading 4-H clubs, and teaching Sunday school.
Naomi was pre-deceased by her parents and siblings, her husband of 70 years, Lee, her son Laurence R. Foster and son-in-law Carl A. Dobrot. She is survived by her children, Charles (wife Janet) of Salem, Ore.; Nancy Nauman (husband Kermit) of Hager City, Wisc.; Larry's widow Linda (Thompson) Foster of Hillsboro, Ore.; David Foster (wife Colleen Mileham) of Salem, Ore.; and Anne Holmstrom (husband Randy) of Cascade Locks, Ore., 10 grandchildren and 13 great-grandchildren, as well as numerous nieces and nephews.
A celebration of Naomi's life will be held at 11 a.m. on Monday, July 18 at Asbury Our Redeemer Partnership, 1140 Tucker Rd., Hood River (recently renamed Spirit of Grace).
In lieu of flowers and gifts, the family requests that contributions might be made to the Lee and Naomi Foster 4-H Scholarship Fund of Hood River County at The Oregon 4-H Foundation, 119 Ballard Hall, O.S.U., Corvallis, OR 97331-3608, or to the Spirit of Grace Church, 1140 Tucker Road, Hood River, OR 97031.
Arrangements are under the direction of Anderson's Tribute Center (Funerals • Receptions • Cremations), 1401 Belmont Ave., Hood River. Please visit AndersonsTributeCenter.com to leave a note of condolence for the family.
Services for Naomi E. Foster
July 18, 2016

Celebration of Life: 11 a.m.
Asbury Our Redeemer Partnership, 1140 Tucker Rd., Hood River (recently renamed Spirit of Grace)