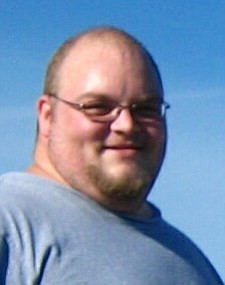 Andrew "Andy" John Hergenrather
Hood River
August 26, 1982 - February 23, 2016
Andrew ("Andy") John Hergenrather was born Aug. 26, 1982, in Hood River, Ore., to John and Rhea Hergenrather. He passed away in his home from a heart attack on Feb. 23, 2016.
His gentle and continually kind nature was evident to all he came into contact with, both people and animals. The friends he made, he made for life. In fact, most of his best friends he met in first grade! Andy had exceptional skills with computers and associated technology. He got his first computer at age 10 and excelled quickly to become an expert at fixing both his family's and friends' technical "issues." His generous, servant heart made him devoted to helping people whenever they asked (often without compensation). He had a quick wit and was always quick to give a hearty laugh if the occasion presented itself.
Andy graduated from Hood River Valley High School in 2000 with an "A" in computer classes. After graduation, he was employed by Dotster.com in Vancouver, Wash., as a website domain manager. For over eight years he served as the technical guru for Good News Gardening, keeping a complex system of computers and registers running and updated, as well as the company's databases and accounting systems. He designed and managed several websites, including
www.creationencounter.com, which includes his first website, "Evidences for God from Space." His technical assistance and patience was an essential ingredient in his father's success as an author and leader of a Christ-centered, creation exploration organization called "Creation Encounter," whose guides lead field trips for nearly 800 people a year.
He is survived by his parents, John and Rhea Hergenrather, his grandmother, Dolly Goodwin, his uncles, Fred and Scott Goodwin, and his sister, Katie Hartman and husband Tanner Hartman, and their 10 month old son, Lundy Hartman. Andy was Lundy's favorite babysitter as Andy enjoyed letting Lundy crawl all over his big shoulders and they would laugh and smile at each other as they played. In fact, Andy had a big and tender place in his heart for all kids and animals and could not control giggling at them.
Andrew's exceptional skills, tender heart and gentleness will always be remembered by his family and friends. We invite you to join us in celebrating Andy's life on Saturday, March 5, starting at 3 p.m. at the Vineyard Christian Fellowship, 508 Ninth St. (Ninth and Eugene) in Hood River. All are welcome and encouraged to come.
Arrangements are under the direction of Anderson's Tribute Center (Funerals • Receptions • Cremations), 1401 Belmont Avenue, Hood River, Oregon 97031.
Please visit AndersonsTributeCenter.com to leave a note of condolence for the family.
Services for Andrew John Hergenrather
March 5, 2016

Funeral: 3 p.m.
Funeral to be held at Vineyard Christian Fellowship, 508 Ninth St. (Ninth and Eugene) in Hood River. All are welcome and encouraged to come.
Services Location
Anderson's Tribute Center
1401 Belmont Ave. Hood River, OR 97031
541-386-1000
Fax 541-386-7380