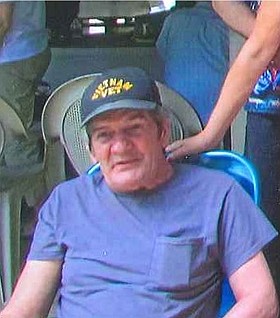 Frank "Cracker" Cornelious Claxton
Hood River
August 25, 1949 - December 7, 2015
Frank Cornelious "Cracker" Claxton, a resident of Hood River, passed away Dec. 7, 2015, in The Dalles, Ore., with family and friends by his side. He was born Aug. 25, 1949, in Levant, Maine, to Jearold Clap Claxton and Erma Isabella Taylor. Frank is survived by his wife Janice Carol Claxton, daughter Paula Maxine Edwards and son Christopher Claxton, three grandchildren, Dylan and Shelby Edwards and Josee ReAnn Claxton, sisters Diane Boyle (husband John), Sherrie Beeman of Maine and Tanya Bosford (husband Kenny) of Hillsboro, Ore., and numerous nieces and nephews. He was preceded in death by two brothers, Steve Claxton and Jearold, both of whom served in the military.
Frank joined the Army on Jan. 4, 1967. He went to Texas, where he met his lifelong friend, John Case, from Nebraska. The two then went to Korea for a year. When they came back to the States, John went home and Frank came to Hood River to see his sister Diane. There he met Janice. He was then stationed in Germany for six months before getting orders to go to Vietnam. There he and John Case met up once again. He was able to get a short leave and come back to Hood River to marry Janice on June 6, 1969, before returning to Vietnam. He was discharged from the United States Army, Dec. 28, 1969, at Fort Lewis, Wash.
The following spring after returning home, Frank started logging timber, running heavy equipment, learning to fall trees, driving dump trucks and paving roads, among other jobs. He told Janice not long before he passed away that his favorite job was logging timber. He also loved teasing his father-in-law, "PA," Carl Carter. He enjoyed socializing, drinking beer, playing cards, dominos, dice, listening to music, fishing, working in the garden and he loved his family. The last two years of his life, he enjoyed watching TV, Sunday football, Nascar and visiting family and friends. He also especially loved spending time with the family dog, Gibbs.
The Claxton family would like to thank Hospice of the Heart for helping during the last months of Frank's life.
A Graveside service will be held at Pine Grove Cemetery, 2687 VanHorn Drive, on Friday March 11, at 1 p.m. A reception in Frank (Cracker's) honor will follow at The Dalles Eagles Lodge from 2:30-4:30 p.m.
Arrangements are under the direction of Anderson's Tribute Center (Funerals • Receptions • Cremations), 1401 Belmont Avenue, Hood River, Oregon 97031.
Please visit AndersonsTributeCenter.com to leave a note of condolence for the family.
Services for Frank Cornelious Claxton
March 11, 2016

Graveside service: 1 p.m.
Pine Grove Cemetery, 2687 VanHorn Drive. A reception in Frank (Cracker's) honor will follow at The Dalles Eagles Lodge from 2:30-4:30 p.m.