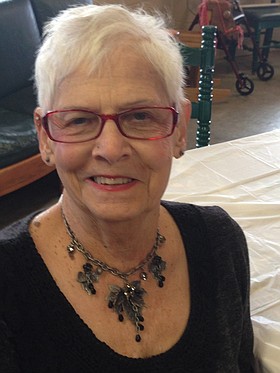 Beverly "Bev" Jean Mathews
Hood River
June 24, 1930 - March 6, 2016
Our beloved mom, Beverly Jean Mathews (Bev) passed away peacefully on March 6, 2016, surrounded by family at her daughter's home in Independence, Ore. She was 85 at the time of her passing. Beverly was diagnosed with lung cancer in January and wasn't afraid to tell anyone she had cancer and was dying.
This is the spirited, energetic, loving, on the go attitude she maintained these past several weeks. The Beverly Mathews Hood River knows was married to Dennis Mathews, the love of her life, for 35 years. Beverly worked as a waitress in many restaurants in Hood River. At the age of 76, she retired from Bette's Place after 27 years of service. She loved working at Bette's Place and the customers over the years were like family.
Beverly was born June 24, 1930, in St. Joseph, Mo., the only daughter born to Goldie Alena Palmer and Moses Frank Leslie. She had three brothers, Frank Jr., Bob and Thomas. Beverly and her mother Goldie were inseparable. Beverly started her waitressing career during high school at local restaurants. After graduating in 1948 from Lafayette High School, she met Richard McDonald while working in her Uncle Herman's restaurant in Mound City, Mo.
Richard and Beverly were married in November 1949. They had five children, Carol, Sharon, Cindy, Joseph and David. Beverly's mother Goldie passed away and Beverly took in Thomas, age 10, her youngest brother, and raised him along with her children. Richard worked for construction pipeline and moving from job to job was constant. Married life started in Missouri and brought the McDonalds finally to settle in Hood River in 1966. Richard passed away at the age of 41 in 1970.
In 1972 Beverly was married to Forrest Pfeiffer and moved with the three youngest children to Mosier, Ore. When they divorced, Beverly and the kids moved back to Hood River where she resided for the next 43 years.
Beverly loved to bowl and was on a women's league for many years. She loved getting her hair done every Friday and enjoyed receiving manicures and pedicures. She loved to read — romance and mysteries were at the top of her list. In her later years, shopping — damn you QVC! — and gardening brought her great joy. She loved sitting on her back deck and admiring her flowers and garden solar lights. Beverly was a member of the River of Life Assembly Church.
Beverly was a hard worker, very independent and a little on the stubborn side. She loved her family and friends. She loved clothes and was always quite the fashionista. For the past three years, she loved being part of the yearly Hood River Gala Fashion Show.
Beverly is survived by her brother, Thomas Leslie, Vancouver, Wash., daughters Carol Pfaff (Tom), Independence, Ore., Cindy Cooper, Independence, Ore., sons Joseph McDonald (Kathy), Clackamas, Ore., David McDonald (Robin), The Dalles, Ore., and son-in-Law Douglas Duggan (Sharon), Parkdale, Ore. She is also survived by her 15 grandchildren, Sarah, Stacie, Scott, Sybil, Sherry, Samantha, Brooke, Kurtis, Beth, Malcolm, Michael, Jodie, Jeff, James, Jon and their families, including 19 great grand-children and two on the way, and her Cairn Terrier, Hannah. She was preceded in death by her mother and father, brothers Frank Jr. and Bob, husbands Richard McDonald, Forrest Pfeiffer and Dennis Mathews, daughter Sharon Duggan, and grandsons Glenn Twidwell and Matthias Kamasz. Beverly leaves behind many good friends in Hood River and numerous relatives in the state of Missouri.
Beverly's family would like to thank the following people who were a big part of her life: best friends Lila Mitchell, Bette Walters, Francis Chambers, Gaye Walters Jones, all her customers at Bette's Place, the wonderful ladies from Dream Street Boutique, neighbors Joe Pounders and Linda Guertin, and her dear friend of 60 years, Ola from Arkansas. The compassion she received from Willamette Valley Hospice of Salem was such a comfort to her and her family. The family would also like to thank Dr. Laura Starrett, Jack Trumbull and the staff of Anderson's Tribute Center for the care and compassion they have received during this time.
Memorials are encouraged to be made to either Hood River Special Olympics or Willamette Valley Hospice; gifts can be sent care of Anderson's.
Services to honor and celebrate Bev's life are planned for 11 a.m. on Saturday, April 2 at Anderson's Tribute Center (Funerals • Receptions • Cremations), 1401 Belmont Avenue, Hood River, Oregon 97031; 541- 386-1000.
Please visit AndersonsTributeCenter.com to leave a note of condolence for the family.
Services for Beverly Jean Mathews
April 2, 2016

Celebration of Life: 11 a.m.
Services to honor and celebrate Bev's life are planned for 11 a.m. on Saturday, April 2 at Anderson's Tribute Center (Funerals • Receptions • Cremations), 1401 Belmont Avenue, Hood River, Oregon 97031; 541- 386-1000.
Services Location
Anderson's Tribute Center
1401 Belmont Ave. Hood River, OR 97031
541-386-1000
Fax 541-386-7380