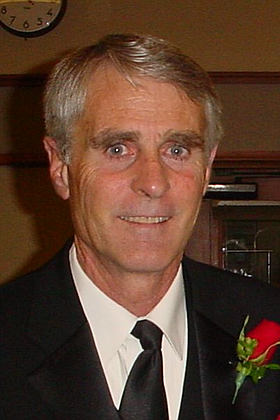 Mark Raymond Anthony
Hood River
October 21, 1946 - March 8, 2016
Mark Raymond Anthony died peacefully in his sleep at home in Hood River on March 8, 2016, at the age of 69, after a difficult battle with cancer. Mark was born in St. Louis, Mo., on Sept. 21, 1946, to Martin (Tony) and Waltha Anthony, their first of four children. His dad was in construction and so they lived many places during his growing up years in Colorado, Texas, New Mexico, California and Oregon.
Mark, being the oldest, was always his mom's right arm, she says. As she took the kids to church, he was always the one carrying the diaper bag. He was the leader in his classroom and amongst his friends. Learning came easy for Mark; he always endeavored to reach honor roll and be at the top of his class. In his middle school years, in Roswell, N.M., he talked his dad into letting him deliver papers "to get some extra cash." Not only did he do the job as paper boy each morning before school, he won the trip to Disneyland by making his paper route the largest in the city. Then he bought himself a scooter with his earnings so he could deliver his papers faster. Ambition and diligence were always words used to describe Mark.
At the age of 19, he enlisted in the Army in January 1966. He spent most of 1966 and 1967 in Vietnam before being honorably discharged. After returning to the states, he went into insurance and found himself winning many honors and awards each year, including achieving No. 1 salesperson in Oregon at least once. He met and married Marlene and they had one child, Michael, in 1971. He also adopted Marlene's daughter, Lisa. They were married for 11 years before Mark became a single parent to Michael. He was a good dad, taking the time to teach him to fish and hunt, fix cars and play sports. He coached baseball and was a scout master. Mark will be remembered by his son as a man that loved unconditionally, lived life with humor, candor and a quick wit, and gave everything he could to help him succeed.
In the late 1970s, Mark and his brother purchased some property in The Dalles and began planting an orchard, but soon found they didn't have enough water to succeed. About this time, Mark met Ellen and they married in 1988, living in Hood River. Their lives were full … a granddaughter, Savannah, was born in 1989, they went on a ministry trip to Russia and Israel in 1990. They found themselves wanting to return and minister in Eastern Europe, so they attended Missionary School at Storehouse Ministries in Seattle before spending three months in 1991 ministering in Bulgaria and then moved to Moscow in 1992 and opened up Russia for Storehouse Ministries, spending nine months there as directors and traveling by train all over western Russia, placing missionaries.
Savannah officially came to live with them as she entered first grade at Horizon Christian School in 1995 and they were as busy as ever, being "parents"… school activities, camping and fishing, travel, and later, girls' basketball. Mark absolutely adored his granddaughter! They always took at least one more girl on their fishing trips. He never got much fishing time in himself; he was always teaching someone to fish, baiting hooks and then taking off the fish as they caught them. He'd just get his hook in the water when they needed him again.
He began attending Point Man Ministries (a ministry to veterans and their families) in 1993 and opened an outpost in The Dalles in late 1993. Mark and Ellen put on Point Man Conferences for five years, ending in 2000, attended by people from all over the United States. So many lives were touched and changed during those conferences. He was the Oregon State Director for Point Man until 2015. In 1996, they took another trip to Romania, Bulgaria, and Greece with grandson Joel to see old friends and expose Joel to the Eastern European culture. A special treat was that they were reunited with an orphan, Zapryan, whom they had spent much time with during a previous stay in Bulgaria.
Mark had the gift of serving. If anyone ever needed a helping hand, Mark was willing to give of his time, whether it was fixing cars, helping Nacho in Bulgaria out in the tomato patch, helping his brother Bruce around his farm, or working at the church. Mark volunteered to work in Florida for two months after the devastation of Hurricane Katrina through the Corp., and later spent a year in Afghanistan (2005-06) working on the military base just outside of Kabul. Another highlight was when Mark and Ellen got to take Mark's mom, sister Nina, and nephew Tony to Israel in November 2011.
Mark has been retired from the Corp of Engineers since March 20, 2011, just in time to be a full-time great grandpa to Mayson (Macey) Funderburg, born May, 2010. She and her mom, Savannah, live with Mark and Ellen, and they were his constant delight — "his girls." Mark loved his family and his church family so much.
Mark was preceded in death by his father, Martin Anthony, and is survived by his wife, Ellen, of Hood River, mother, Waltha, of Mosier, brother, Bruce Anthony of Mosier, sisters Nina Chelemedos of Dallesport and Marilyn Buck of Tacoma, Wash., son Michael of Seattle, Wash., daughter Lisa, of San Diego, Calif., granddaughters Savannah Funderburg, Camie Klantchnek, and grandson, Joel Piersall and a great granddaughter, Mayson Funderburg, all of Hood River, along with many cousins, nieces and nephews. Memorial donations may be made in Mark's honor to Covenant Hood River church, 455 Frankton Road, Hood River, OR, or Point Man International Ministries through Covenant.
Arrangements are under the direction of Anderson's Tribute Center (Funerals • Receptions • Cremations), 1401 Belmont Avenue, Hood River, Oregon 97031.
Please visit AndersonsTributeCenter.com to leave a note of condolence for the family.