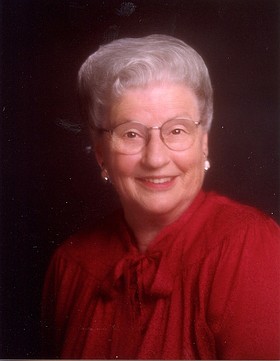 Marilyn Ericksen
May 17, 1922 - February 29, 2016
Marilyn Ericksen passed to her rest on Feb. 29, 2106, at Brookside Manor in Hood River, Ore. She was born on May 17, 1922, in The Dalles, Ore., the second child of Allie and Hazel Gronewald. Her older brother and father drowned in 1929 in the Deschutes River.
Marilyn graduated from The Dalles High School in 1940 and went to the University of Oregon. She worked as an X-ray technician in Portland before returning to The Dalles in 1947 to marry "the boy next door," Walter Ericksen. Together they purchased his father's ranch on lower Mill Creek and planted cherries. For 20 years, Walt and Marilyn spearheaded the push for the local aluminum plant to clean up fluoride emissions that were negatively impacting cherry crops in the area, and finally succeeded.
Over the years, Marilyn enjoyed Girl Scouts as a leader and eventually as a trainer of leaders. She assisted with home extension classes, 4-H clubs, and actively participated at the UCC Church and The Dalles Senior Center.
Marilyn enjoyed history and was a board member of the Original Wasco County Courthouse Preservation Corporation. Having been born and raised in Wasco County, she desired to preserve the stories of early pioneers and began conducting oral interviews in the 1980s.
After Ernie Kuck died in 1992 and left $9 million to help establish the Wasco County Historical Museum/Columbia Gorge Discovery Center, Marilyn focused on interviewing people who had known or worked with him. As Marilyn discovered the many facets of Ernie's life, she felt compelled to write his biography. Twenty years later, she joined a writing group at Down Manor in Hood River, and began to draft stories about Ernie. In 2015, at the age of 93, Marilyn published "Remembering Ernie Kuck: Cattleman, Historian, Philanthropist."
Marilyn had a profound influence on others. She is remembered for her pragmatism, her loving acceptance of people, her hospitality and good cooking, her compassion and caregiving, and her remarkable optimism and sense of humor.
She was preceded in death by her husband, Walter Ericksen, in 2002, and is survived by her daughter Evelyn Ana Moskowitz and husband Steven of Long Beach Calif., her son Dan Ericksen and wife Kay of The Dalles, and daughter Irene Hill and husband Jim of Appleton, eight grandchildren and 10 great-grandchildren.
There will be a memorial service at Down Manor on April 6 at 10:30 a.m.
There will also be a memorial service on Friday, April 15, at 2 p.m. at the United Church of Christ in The Dalles. Memorial gifts may be made to Heart of Hospice, 2621 Wasco St., Hood River, OR 97031.
Services for Marilyn Ericksen
April 6, 2016

Memorial service: 10:30 a.m.
Down Manor in Hood River

April 15, 2016

Memorial service: 4 a.m.
United Church of Christ in The Dalles