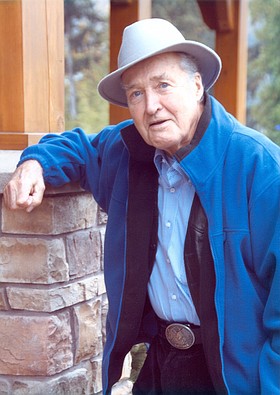 Kenneth William Raasch
June 30, 1926 - April 20, 2016
Kenneth William Raasch, a resident of Hood River, Ore., passed away April 20, 2016, at his home and surrounded by his loved ones.
Kenneth was born June 30, 1926, in Monroe County, Mo., to George and Ethyl Raasch. Ken's childhood was spent in Missouri and New York. Before graduation from high school, he joined the Army Air Corps and trained in Hawaii and Arizona before being Honorably Discharged in 1946.
Ken met Marjory Freemole while attending the University of Colorado. They were married in 1950. Following graduation, they accepted a teaching job in Kotzebue, Alaska. The couple taught Native Americans from 1952-1954. While living in Alaska, their firstborn child, Kathy Raasch (Maxwell), was born, on Sept. 9, 1953. Following their time in Alaska, they moved to Parkdale, Ore., where Ken taught at the Parkdale School. While living in Parkdale, their son Brian Raasch was born, on Jan. 4, 1956. They moved to Eugene, Ore., in 1959, where Ken was Dean of Boys while obtaining his Master's Degree from the University of Oregon.
Wanting to move back to Hood River, in 1961, Ken accepted a position as the principal of Mid Valley Middle School until his retirement. On Oct. 5, 1962, Jennifer Raasch (Kanable) was born. With the help of his good friend Jack Baldwin, Ken built his home of 55 years. With a love for skiing and Mount Hood, Ken taught at Cooper Spur for 37 years. All of his kids and grandkids enjoyed many weekends on the slopes of Cooper Spur. He would give free classes to many ski enthusiasts on how to tune their skis.
Ken was preceded in death by his wife Marjory, mother to Kathy, Brian and Jennifer, in 1997.
Ken met his partner Eleanor Gradwohl and they became the dearest of friends. Eleanor moved to Hood River in 2004. They enjoyed many years of travel and adventures as well as wonderful times spent with family and friends.
Many who knew Ken can still laugh at the many jokes he shared, including the ones he told right up until a few days prior to his death. Ken will be remembered as a kindhearted person who loved to educate, ski, carve wood, enjoy a glass of merlot and visit with all he came in contact with. He was a loving husband, partner, friend, father, grandfather and great grandfather.
Ken is survived by his children, Kathy Maxwell and husband Don Maxwell, Brian Raasch and wife Kristy Raasch, and Jennifer Kanable and husband Ed Kanable, six grandchildren, Aaron, Cooper, Josh, Alex, Bailey and Roxie, and four great-grandchildren. Eleanor's grandchildren, Jake and Sara, were a big part of Ken's life as well and became his grandchildren.
In lieu of flowers, contributions can be made to OHSU Parkinson's Research or Hospice of the Gorge.
Ken will be forever in the hearts of so many that he touched in his almost 90 years.
A Celebration of Life will be Saturday, May 14 at Hood River Valley Christian, Hood River, at 1 p.m.
Arrangements under the direction of Anderson's Tribute Center (Funerals • Receptions • Cremations), 1401 Belmont Ave., Hood River. Please visit www.AndersonsTributeCenter.com to leave a note of condolence for the family.
Services for Kenneth William Raasch
May 14, 2016

Celebration of Life: 1 p.m.
Hood River Valley Christian, Hood River