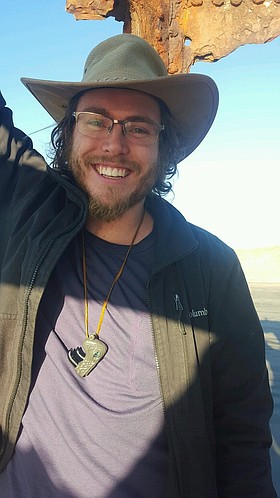 Cody Heckrodt-Hallenbeck
June 12, 1992 - February 21, 2016
Cody Heckrodt-Hallenbeck was born June 12, 1992. He was an adventurer, explorer, world traveler, passionate chef, beloved son, brother, and friend.
We lost Cody in a tragic climbing accident while he was traveling in Thailand on Feb. 21, 2016. He is survived by his parents, Carla Heckrodt and Julie Hallenbeck; his brother, Bryce; his grandparents, Frank and Florence Heckrodt and Jack and Donna Hallenbeck; and uncles and aunts, Curt and Jennifer Heckrodt, Chris Hallenbeck, Burleigh and Rebecca Arnold, Tom and Mary Sommers, Frank and Sheryl Hills, Steve and Jean Harmon, Sue Sommers, and their families; and many, many friends worldwide.
Cody lived and loved life to the fullest with his heart wide open.
Please send condolences in care of Greer's Mortuary, 2725 W State Route 89A, Sedona, AZ 86336.