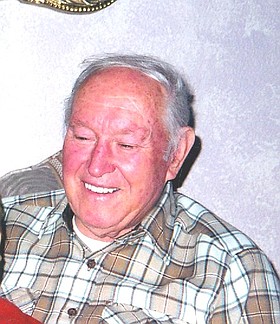 Edward "Ed" Melvin Adams
Hood River, Ore.
September 3, 1925 - May 1, 2016
Edward Melvin Adams (Ed) went to be with Jesus on Sunday May 1, 2016, at his home of 32 years at 3050 Dee Highway in Hood River, Ore.
He was born on Sept. 3, 1925, in Crossville, Tenn., to Gordon Melvin Adams and Ethel Goss Adams. He was 90 years old at the time of his passing. When Ed was 3 years old, he moved with his family to Jerome, Idaho, where his parents bought a dairy. He attended school in Jerome and surrounding areas graduating from high school in 1943.
He joined the Navy in 1944, one year after graduating high school. He was a radio man on a ship and was on route to Japan when the peace treaty was signed. He was discharged from the Navy in 1948. Ed married the love of his life, Betty Koger, on March 16, 1950, in Pocatello, Idaho. They considered themselves "newlyweds" for 64 wonderful years, going to bed with a kiss and "see you in the morning." Breakfast prayers always concluded with "thank you for another day with my bride."
Ed took many college courses throughout his life, from accounting and tax preparation to Spanish. He was a rural letter carrier in Hood River for 14 years and delivered the mail in Pocatello for 10 years. He also worked on the Postal Rail service eight years. He was an agent for the Railway Express Agency for six years. Ed always held at least two or more jobs. Among them included working in the lumber mill, delivering milk, being a security guard and being a census taker.
Ed loved to take short road trips and sought out little-traveled roads to explore. In the summer when his children were younger, about every Sunday after church was a ride and a picnic (a mini vacation). He loved to take guests in his home to see the different sites and places that he found beautiful and interesting.
Ed loved gardening and prided himself on always growing a picture perfect garden. He and Betty would laugh and say, "Ed grows all he can and Betty cans all he grows." Ed's first love was his Jesus and he was Godly example to his family and all that knew him. Next to his Jesus, he loved his wife and their children.
Ed was always good for a joke, many of which he made up himself and retold all the time.
He is survived by his children, Christine Adams of Vancouver, Wash., Cynthia Poole and spouse Donald of Hood River, and Clinton Adams and spouse Marjie of The Dalles, Ore., and 14 grandchildren and 19 great grandchildren. He is also survived by three sisters-in-law, Marine Adams, Beryline Koger, and Lous Dalpiaz.
Ed was preceded in death by his parents, Melvin and Ethel, sisters Hazel Mason and Mary Snowdar, brothers Gordon Adams and Emerson Adams, wife Betty Adams, daughter Kathleen Adams, grandson Jacob Poole, and great grandson Austin Dubay.
A funeral service will be held at 2 p.m. on Tuesday, May 10 at Anderson's Tribute Center, with Ed's grandson Adam Poole officiating. Viewings will be held Monday, May 9 from 4-7 p.m., and Tuesday, May 10 from noon-2 p.m. at Anderson's Tribute Center.
Arrangements are under the direction of Anderson's Tribute Center (Funerals • Receptions • Cremations), 1401 Belmont Ave., Hood River.
Please visit AndersonsTributeCenter.com to leave a note of condolence for the family.

Services for Edward Melvin Adams
May 10, 2016

Funeral: 2 p.m.
Anderson's Tribute Center