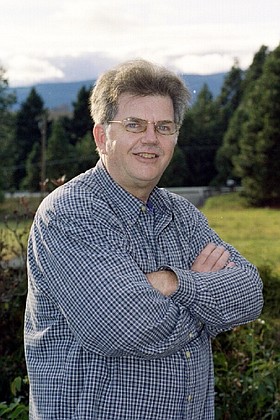 Norman Harold Frisbie
December 5, 950 - May 3, 2016
Norman Harold Frisbie died peacefully at his home on the morning of May 3, 2016.
Norman was born Dec. 5, 1950, in Oakland, Calif., to Harold and Naomi (Harshbarger) Frisbie. He was followed by two sisters, Joella and, later, Margie. The family moved to Portland when Norman was 4, and then back to Martinez, Calif., in 1957, but Norman had already become an Oregonian at heart.
Norman grew up involved in Boy Scouts, with his mother as his first Cub Scout den leader. Later his dad would join him for two-week wilderness hikes in Yosemite, continuing all the way to becoming an Eagle Scout. Growing up near a swimming pool, he spent summers swimming at the pool and participated on the swim team in high school. He graduated from Alhambra High School in 1969, and headed back to Oregon for a year of college at Oregon State University before joining the Army during the Vietnam War. His army service would take him to Japan and Thailand, but would also provide him with the GI bill when his service was completed.
Norman returned home after the Army, and spent his first summer home working at his uncle's farm in Idaho. He loved to tell about being able to gain weight even with the hard work and long days on a dry land grain farm because his Aunt Fern's farm cooking was the best answer to Army chow.
Back to California, he continued his studies at a local junior college, taking a wide variety of classes while he worked an assortment of jobs. Norman eventually decided on completing his studies and headed back to Oregon State where he received his electrical engineering degree.
By the time Norman graduated from college, his parents had purchased an orchard in Hood River and he moved to their farm. His work life was spent working for Electronic Assemblers and later at Custom Interface, Inc. He had retired from work at the end of March.
Norman was an avid reader (science fiction was his favored genre) and enjoyed doing projects like building his first computer from component parts. He enjoyed hunting for deer and elk and fishing for sturgeon on the Columbia.
Norman was a wonderful son, brother and uncle and will be deeply missed by his mother, Naomi, sister Joella and her husband Paul Dethman, and sister Margie and her husband Jim Byrne, all of the Hood River Valley; and his three nephews, Jesse Dethman of San Francisco, Calif., Craig Dethman of Seattle, Wash., and Matt Byrne and his wife Michelle of Mosier, Ore. He is also survived by numerous extended family members in the Hood River Valley and western states.
A memorial service will be held at 3 p.m. on Friday, May 13 at Anderson's Tribute Center (Funerals • Receptions • Cremations), 1401 Belmont Ave., Hood River.
In lieu of flowers, the family suggests contributions to Lions Sight and Hearing Foundation or the FISH Food Bank.
Please visit AndersonsTributeCenter.com to leave a note of condolence for the family.
Services for Norman Harold Frisbie
May 13, 2016

Memorial service: 5 a.m.
Anderson's Tribute Center (Funerals • Receptions • Cremations), 1401 Belmont Ave., Hood River