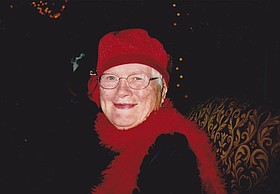 Dorothy Ethel Milford
July 21, 1915 - April 24, 2016
Dorothy Ethel Milford passed away on April 24, 2016, at her home in Mount Hood-Parkdale, Ore., at the age of 100. She was born on July 21, 1915, in Uniontown, Kan., to John C. Bruner and Ada Olive Farmer Bruner. She grew up and attended school in Kansas, and frequently referred to herself as "an old Kansas farm girl." With family and friends, she celebrated her 100th birthday in July 2015 at the Parkdale Grange.
Dorothy married her husband, Theodore Walter "Walt" Milford, of Isabel, Kan., on Oct. 26, 1936. They were married in Nevada, Mo., and had over 52 happy years together until Walt passed away in 1989. Dorothy and Walt continued to live in the Kansas City area after they married and Dorothy worked in retail sales in the leather goods department of a large department store. They eventually decided to move west and worked in both California and Washington. They finally made their way to the Hood River Valley, fell in love with the area and purchased their home in 1944. Three children were born to this union. Their first child was born in California, their second in Washington and their third in Oregon. With three young children, their small house became a little cramped, so they began enlarging it in the 1950s. Both Dorothy and her husband continued to live in their home until their respective deaths. Even after her husband passed away, Dorothy never wanted to live anywhere else. She lived in their home for over 71 years.
While her children were growing up, Dorothy was very busy with them and being an at home receptionist for her husband, who was the field manager for a local domestic water company. Answering frequent telephone calls and taking messages for him was an everyday occurrence. When her children were involved in school and other activities, Dorothy was also very involved in them, including being a Blue Bird leader. She was an excellent cook, made bread, and canned all sorts of foods. She was also a good seamstress and made many clothes for the family. When the children got a little older, she worked for a while as a clerk at Safeway and later at the Paris Fair Department Store, both in Hood River. She also sold Avon products for a few years; however, her family always teased her about spending most of her earnings on her own products.
Dorothy had a beautiful singing voice and played many musical instruments, including the guitar, piano, organ and accordion. She frequently played the guitar and sang for her family. Those times are very fond memories for her children. She was in her 30s when she learned to drive an automobile and after that she seemed to be always on the go. She loved shopping and visiting with her friends and acquaintances. She always had a smile on her face and no one was considered a stranger — they were all her friends from the moment she met them. Common statements about Dorothy were that she was very sweet and had a heart of gold.
In her later years, Dorothy became a member of the Parkdale Baptist Church, which she attended regularly. She loved all the people in the church, considered them her extended family, and the church her home away from home.
Dorothy has a special place in the hearts of her family and friends and she will be greatly missed by them. Her children, grandchildren and great grandchildren feel blessed that she was part of their lives.
The family wishes to thank everyone for their kindness to Dorothy during her life and final days and for their support to her family, both before and after her passing. Special thanks to Pastor Bobby and Lourah Beauchamp of the Parkdale Baptist Church, for all their attention and kindness; Dorothy's friends Margaret Dolan and Dottie Nelson for their friendship and many visits to Dorothy; Regina Dawson, Brandy Hallmark, and Kathy Bullack for their kind help and caring; all the kind and caring people of Providence Hospice of the Gorge; Faith in Action for their help and support throughout her elder years; CAT Bus drivers who transported her to the Mt. Hood Town Hall for senior dinners; all the drivers and people who worked so hard in making and delivering Meals on Wheels to her for many years; and Herb Good and helpers for preparing the meal for the reception following Dorothy's memorial service.
Dorothy was preceded in death by her husband, her parents, her oldest daughter, Dorothy Iona Milford Hanks, her sister and brother-in-law, Mildred and Fred Stoll, her husband's parents, and her husband's two brothers and three sisters and their spouses.
Dorothy is survived by her son, Walter John Milford and his wife, Acel Milford, of Vancouver, Wash.; youngest daughter, Ada Lea Neufeldt and her husband Roger Neufeldt of Mount Hood-Parkdale; four grandchildren, Jason Roger Neufeldt, of San Diego, Calif. (his girlfriend, Karen Thielen), Stefanie Rae Neufeldt Gilbert (her husband, James), of Boise, Idaho, Ina Marie Milford Goldade (her husband, Scotty), of Westport, Wash., and Magda Ann Milford, of Vancouver, Wash.; step grandson, Michael Benjamen King; three great granddaughters, Cailey Amber Hughes, Madeline Faith Hughes, and Allie Marie Byers; two step great grandsons, Nick Gilbert and Ryan Geraci; and several nieces and nephews. She is also survived by her faithful cat, Bootsie, who she frequently referred to as "her pride and joy."
A memorial service will be held under the direction of Andersons Tribute Center on Saturday, May 21 at 1 p.m. at the Parkdale Baptist Church, 6310 Dee Highway, Parkdale, with Pastor Bobby Beauchamp officiating. A reception will follow at the church featuring the outdoor cooking of family friend, Herb Good.
Memorial contributions may be made in memory of Dorothy to the Parkdale Baptist Church, Providence Hospice of the Gorge, Hood River Meals on Wheels, and the Mt. Hood Town Hall. Contributions may be made in care of and arrangements are under the direction of Anderson's Tribute Center (Funerals, Receptions, Cremations), 1401 Belmont Ave., Hood River, OR 97031.
Please visit AndersonsTributeCenter.com to leave a note of condolence for the family.
Services for Dorothy Ethel Milford
May 21, 2016

Funeral: 1 p.m.
Parkdale Baptist Church, 6310 Dee Highway, Parkdale.