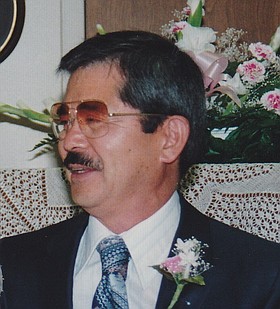 Yoshio Kiyokawa
March 9, 930 - April 26, 2016
Dr. Yoshio Kiyokawa passed away on the morning of April 26, 2016, from complications due to colon cancer.
He was born on March 9, 1930, in Dee, Ore., to Riichi and Rei Kiyokawa. He was the youngest of eight siblings. He attended Hood River High School, graduating in 1948. His high school years were filled with both academic and athletic achievements. Not only did he graduated toward the top of his class, but he also excelled in football, wrestling, and baseball. An excerpt from the Hood River News, May 22, 1948, states:
"One Walk, Three Thefts Spoiled Boy's No-Hitter
"Harry Winston of Milton-Freewater pitched a no-hit ball game but issued one fatal walk to give Hood River a 1-0 win and the District high school title.
"Winston fanned 10 batters last night, but when he walked Yosh Kiyokawa, Hood River third baseman, he yielded the game — for Kiyokawa stole second, stole third, then while Winston was winding up, stole home.
"As a result of the win, Hood River plays Nyssa for a position in the state high school class A tournament."
Following high school, Yosh continued his education at Oregon State University. He also continued to compete in wrestling at the college level. He was a three-year wrestling letterman for OSU from 1950-1952. He was a member of the 1951 Pacific Coast Championship Team and the 1952 team, which was the first OSU team to reach the NCAA top 10.
He furthered his education at the University of Oregon Dental School. In 1956, he received the "Outstanding Student Award."
After graduating from the University of Oregon Dental School, he served two years in the Korean War with the Army Dental Corps. Upon return from the war, he began his successful dentistry practice in Hood River. In 1974, he was voted the "Oregon General Dentist of the Year" by his professional peers. He practiced dentistry in Hood River for over 30 years. Yosh was an avid supporter of the dentistry profession, serving on the Oregon Board of Dental Examiners, numerous dental study clubs, as well as volunteering as an instructor at the School of Dentistry for over 20 years.
In 1957, Yosh married Mitsuko Kiyokawa, who preceded his death in 1986. They had two children, Jaren and Gordon Kiyokawa. Yosh was very proud of all the accomplishments that his sons made. He was a strong supporter of their many endeavors. He was guiding, but never insistent, allowing them to find their own successes in sports, activities, careers, and life. Yosh had his own special way of guiding his sons, and always taught them to pursue success through hard work.
Yosh remarried Irene Walburga Heess in 1991. With this new union, Yosh welcomed three more children, Stephen Miller, Christina Evens, and Mela Sanders, into his family.
Yosh led a very active life. He enjoyed golfing and walked almost every round. He was a member of several golf clubs, including the Oregon Nisei Golf Club, Indian Creek Men's Club, and the Palm Desert Resort Men's Club. He had three hole-in-ones, but he never spoke of them or boasted. Always a humble man, in both his professional and personal life.
We will all miss him dearly, whether it's as a father, grandfather, friend, sibling, husband, dentist, or perhaps as that quiet exercise icon many saw on his five mile, daily walking treks around Hood River.
Yosh is survived by his wife, Irene of Hood River; sons, Jaren of Woodlands, Texas, and Gordon (Deborah) of Gresham, Ore.; grandchildren, Connor, Sarah, Kinai, Kai, Kiyoshi, and Kiyomi; great grandchild, Grayson; stepchildren, Stephen (Karen) Miller, Christina (Jacob) Evens, and Mela (Greg) Sanders; 13 step grandchildren and 11 step great grandchildren; siblings, Emi Takayama, Kay Kiyokawa, Kaz (Tom) Sumoge, and Shu (Seichi) Konno; and many nephews and nieces.
Yosh wanted to leave us in his own way and in a manner in which he lived his entire life ... quietly, without leaving any ripples in the water.
At his request, there will not be any services held. Memorial contributions may be made in his honor to OHSU School of Dentistry, American Cancer Society, or the Oregon Turfgrass Foundation.
Arrangements are under the direction of Anderson's Tribute Center (Funerals • Receptions • Cremations), 1401 Belmont Ave., Hood River.
Please visit AndersonsTributeCenter.com to leave a note of condolence for the family.