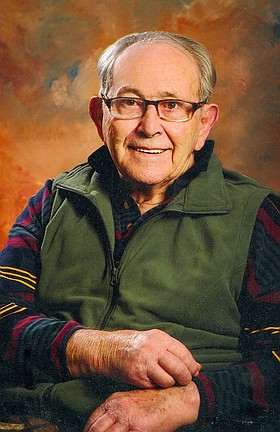 Milo Martin Blankenship
Hood River
December 28, 1926 - May 7, 2016
Milo Martin Blankenship passed away May 7, 2016, in the early morning hours with family by his side at Providence St. Vincent's Hospital in Beaverton, Ore. Milo was born Dec. 28, 1926, and was 89 at the time of his passing.
Milo was born in Protem, Mo., to H.F. and Vera (Owen) Blankenship. He was raised and attended school in the Protem area until he joined the United States Army in February of 1945. Milo was aboard a troop ship deployed to Saipan on the way to the war when the ship was notified that the war was over, so he spent the rest of his service days in Honolulu helping to rebuild what had been destroyed.
After the war, Milo followed his older brother's footsteps and came to Oregon, where he knew he could find work in the orchards. He came to Hood River and worked for Walter Wells and Sons. He worked for Hood River Sand and Gravel and then went into construction, building custom homes and later working on his own until he retired. While living in Hood River, Milo met and later married Melba Jean Smith in May of 1948. In 1950, their first daughter, Linda Jean was born, followed by Dianna Lynn in 1955.
Milo was blessed with two grandchildren and during their youth, he attended their many recitals, baseball, football, basketball and soccer games. He spent many hours volunteering his time, mowing the baseball field or building dugouts. If it involved the grandchildren, he supported them. The most important things to Milo were family, work and hunting. Those were the things that made him happy. Milo and Melba Jean also square danced with the WyEast Whirlers and bowled together on league for many years.
Milo was preceded in death by his wife of 62 years, Melba Jean, in 2010, his parents, and brothers George, John, Paul, Jim, Sim and Rome. He is survived by his sister, Dora Hyde Blunt of Marshfield, Mo.; daughters Linda Stassen (and husband, Jim) of Mesa, Ariz., and Dianna Blankenship (and husband, William Rose) of Gearhart, Ore.; granddaughter Trishia Sissons (and husband, Jim) of Spokane, Wash.; grandson Jarad Swyers (and wife, Karen) of Peoria, Ariz.; four great grandchildren; two great great grandchildren; and numerous nieces and nephews.
Memorials are encouraged to be made in Milo's name to the Hood River Valley Adult Center, 2010 Sterling Drive, Hood River, OR 97031.
Services were planned for Milo on Tuesday, May 17, at Anderson's Tribute Center (Funerals • Receptions • Cremations), 1401 Belmont Ave., Hood River.
Please visit AndersonsTributeCenter.com to leave a note of condolence for the family.