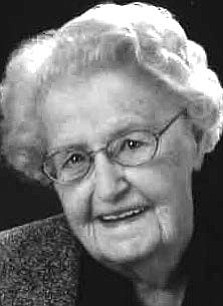 Ida Katrine Roberts
April 28, 1912 - April 15, 2016
Ida Katrine Roberts passed away in Portland, Ore. , on April 15, 2016, two weeks short of her 104th birthday. Ida was born in Exira, Iowa, on April 28, 1912, to Andrew and Elsie Hanson. She was one of 12 siblings on a working farm.
She left the farm to pursue nursing at Union College, and what is now Loma Linda University, where Gilbert Roberts came into her life in the spring of 1940. Ida quit school and got married, because her folks were visiting and she wanted them at the wedding.
They lived in Pasadena and built homes until moving to Hood River in 1943. Keeping a goal of having a dairy for three years, they sold the dairy at the end of those three years and went back into construction.
They spent their years constructing the majority of the commercial buildings in Hood River and the surrounding area. Ida loved visiting community folds on daily walks, inviting friends and neighbors for root beer floats or watermelon on the patio, and traveling. A life-long Seventh Day Adventist, she loved her church and the school.
Gilbert passed away in 1983 at the age of 83. Ida is survived by her only child, Byron Roberts (wife Judy), granddaughters Malaika Childers (husband Chris) and Josi Torres (husband Kameron), and five grandchildren.
Remembrances can be made to Mid-Columbia Adventist Christian School, 1100 22nd St., Hood River, OR 97031.