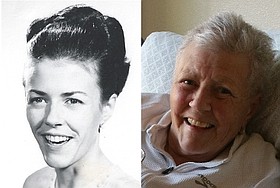 Bonnie McCuskey
Hood River
July 13, 1945 - May 10, 2016
Bonnie Cragin McCuskey passed away peacefully on May 10, 2016, at age 70 in Hood River, Ore., surrounded by her three daughters, Megan Johanna Barton, Molly McCuskey Bailey and Colleen McCuskey. In addition to her daughters, she is survived by her brother Paul Cragin of Marlboro, Mass., and five grandchildren, Wendell Barton, Henry Barton, and Eleanor Barton of Hood River, and Ardan Bailey and Cormac Bailey of Albuquerque, N.M., as well as her devoted sons-in-law, Jake Bailey and Al Barton.
Bonnie was born in Detroit, Mich., on July 13, 1945, to Raymond Alton Cragin and Edith Dodd Culver. Bonnie grew up in Bloomfield Hills, Mich., where she received a secondary education at Kingswood School. She attended the University of Michigan and then moved to Cleveland, Ohio, where she completed her Bachelor of Science in Nursing at Case Western Reserve and earned a Certificate in Nurse Anesthesia. She subsequently practiced as a nurse anesthetist for over 35 years.
Bonnie lived all over the United States, often moving to be close to each of her daughters and grandchildren. Her love for travel and adventure took her throughout the United States, Europe, Africa and the Far East, often by train. She loved her grandchildren and had a substantial role in raising all of them, including taking them to the places she most loved to travel. She was an avid runner and loved the outdoors, and preserved a childlike wonder and love for learning throughout her life.
This quote describing Bonnie from her high school yearbook is as true today as it was then: "... Intellectual ability spurred by an astonishing interest in everything past, present, and preferably controversial." Her spirit, humor and boundless energy brightened the lives of all who knew her. She had many friends in many places, and she will be dearly missed.