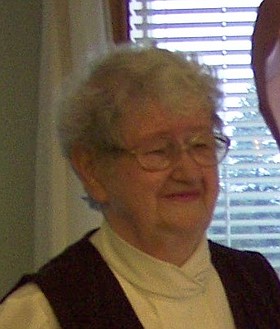 Carole Jean Coreson
Hood River
December 9, 1934 - May 25, 2016
Carole Jean Coreson passed away peacefully on May 25, 2016, at her home at Down Manor in Hood River, Ore. She was 81 years young.
A time to celebrate her life will be Sunday, June 5 at 2 p.m. at Anderson Tribute Center in Hood River.
Carole was born Dec. 9, 1934, and raised in Portland, Ore., to Althea and Harry Morgan. She graduated from Girls Polytechnic High School in 1952. She was a member of the Fanciannes, Thespians, Polysteppers and DECO. She met, and later married, Lyle C. Coreson on Nov. 2, 1959. They started raising their family in Portland until 1965, when they moved to Parkdale, Ore.
Carole loved being a stay at home mom while her children were young, but started working for Diamond Fruit first part-time, then full-time as a Floor Lady until her retirement in 1996.
Once Carole was retired, she found she had more time to devote to her children, grandchildren and great grandchildren. It was very normal to see at least one of the grandchildren spending the night, or two, and choosing a meal of their choice, later adding shopping to the list of things to do together.
"Mom, Nonnie, Grandma" will be remembered for many things and some of her special treats will be part of that list: Cinnamon and/or dinner rolls, fresh bread, her pickles (the recipe lives on), scones, split pea soup, homemade noodles, homemade burritos with guacamole, and pumpkin cookies, just to name a few, not to mention, ugh, Spam. Family gatherings and stayovers with Nonnie wouldn't have been the same without them.
Nothing made Carole happier than being among her kids at family gatherings, where she would sit and watch everyone with a smile on her face. You just knew how happy it made her.
Carole was a member of the Parkdale Grange and could also be found baking pies and serving breakfast, lunch and dinner for special events. She was a very active member of the community helping with various fundraisers, school programs, the Parkdale Library, The Fish Food Bank and the SMART reading program. She was also a member of the Red Hat Society for a time.
She loved her "coffee" group and will be dearly missed by the remaining members of the 45-plus years group.
Carole's life changed dramatically with the death of her husband Lyle in 2008. She stayed in their Parkdale home for a couple more years before moving to Down Manor in 2010, where she enjoyed meeting new friends, going on day bus trips for lunch, shopping, gardening or just taking trips to nowhere. She helped teach the daily exercise class and held the position of sending cards to fellow residents, a task she took very seriously. She was always grateful for the beautiful space and loved all the staff and residents.
Carole was preceded in death by her parents, siblings Martha Matheny and Ron Morgan, and her husband Lyle.
She leaves behind a family that will miss her dearly: Her children Ronda Snyder and husband Dick, Lynda Coreson, Cathy Carter and fiancé Rolf, Darin Coreson and wife Suzy, and youngest daughter Lori Coreson. She also leaves seven grandchildren, Jennifer Ingram and husband Josh, Becky Hutson and husband Randy, Jeremy and Joshua Breedlove, Collin Carter, Sara Coreson and boyfriend Brad Hansell and Ashlee McNamara, plus her extended grandchildren Todd Snyder, Troy and Lara Snyder, Chris and Bri Snyder, and Charlie and Michelle Snyder. Great grandchildren include Abby, Sophie, Lucas, Morgan, Dalton, Gage, and Ella, plus her extended great grandchildren Brittany, Chase, Brenna, Kale, Kolby, Jordan, Cooper, Emma, Tucker, Ethan and Addy.
Donations in Carole's name can be made to the SMART program or to the Parkdale Grange.
Arrangements are under the direction of Anderson's Tribute Center (Funerals • Receptions • Cremations), 1401 Belmont Ave., Hood River.
Please visit AndersonsTributeCenter.com to leave a note of condolence for the family.
Services for Carole Jean Coreson
June 5, 2016

Celebration of Life: 2 p.m.
Anderson Tribute Center in Hood River