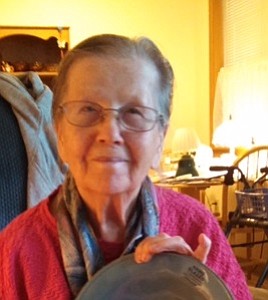 Lois Ilene Johnson
January 18, 1924 - October 15, 2016
Lois died October 15, 2016 at her home among three of her family members…Alex, Serena, and Danny. She was 92 years old.

A Pleasant Surprise.
The discovery of the many cards and other things that were given to her and she kept. She didn't discard them, because they were so meaningful and precious to her because of her love for those who gave them to her, and because she treasured their love for her.
Also, her little notes that she wrote…found in her handwriting on cards, and other things, she received from others who she loved and who loved her. They were found after her death, and so they were a pleasant surprise to us…but we weren't really surprised at the deep love they revealed to us that was in her.
We already knew that about her! This was just another way that she expressed the love she felt for, and from, other people.

A Sadness and A Happiness.
Seen in her eyes when her eyes would find yours, there was a sadness…sadness from her failing health, sadness from being alone too often. But seen at the same time somehow, was the deep love she felt for us, and a knowing that she was loved by us.
In us, there was a sadness because of our not taking time to visit her more often. Even though we did visit her and did take care of her, there's the feeling that we could have done so more frequently. Even though we thought we should, and meant to do so…we just didn't seem to get around to being with her more often. Or so it seems now…perhaps because of the sadness in knowing that it's too late to change that now. However, in this also is the knowing that she forgave us and loved us still…if she even felt like we weren't there often enough. Knowing her, it's that she either didn't have thoughts like these, or dismissed them if she did.

A Joy to Her Heart.
Those she loves were, and surely still are, a joy to her heart. A joy, and a strength to her while she was with us…and perhaps beyond. Those she loves include: The ones who were in her life in days gone by, but have preceded her in death. A still living niece, Barbara, who was special to her. Her 3 sons, Danny, Kerry, and James (Pickles)…and their significant others (spouses, fiancées and fiancés, and others), both past and present. Her grandchildren and their significant others, and her great-grandchildren…grandchildren and great-grandchildren so numerous that I won't take the space to name them all here. Several others who she loved who I don't want to be left out (though some fit in a category above), and so I name them by name: Leanna, Lee and Michelle, Diane, Jennifer, Sara. Some of her neighbors and friends…especially Merle in recent years. Other friends. Some of the people she came in contact with for various reasons.
She was a loving person…and that love extended far.

A Joy to Our Hearts.
To those who know and love her, she is a joy in our hearts. It was both a privilege and a pleasure to have her in our lives in this world…and to carry her memory in us until we meet again. Also, it was, and is, a joy to us…to know that she was so loved by others, including ourselves. These people are in the same list as seen above, but what comes to mind as well are some of the people who work in a store where she used to go shopping. Heard from them over time have been words of kindness, words of love…expressed to us about her. Just this week, I heard more words of this type spoken to me by Art. She had obviously touched their hearts with her gentle, loving, and caring, nature.
Something else comes to mind about her that is a joy to our hearts: One of the many things that are so special about her nature, and something that was so obvious about her, is that she was a person who was so generous, so willing to help others in whatever way or ways that she could, that this part of her shined forth from her…like the warmth of the summer sunshine.
Her sons were the beneficiaries of how she always put them first. Even during her time of deep sorrow when her husband, Al Johnson, died in the 1960's and she was in deep emotional pain for a long time…her time, energy, and emotional support was directed towards her boys (who were young at that time their Dad died), rather than towards herself. She never remarried.

A Great Peace and Comfort.
Her great love for Jesus…and her trust in Him to help her in this world, and to bring her into Heaven when she died…were, and are, the defining thoughts in her life. The ways of our Lord colored every aspect of her life because she believed them to be truth. He was the great peace she felt in her life.
Her faith is also a great peace and comfort for we who remain and believe, because we know that we will see her again someday.

"See Ya Later!"
When we said our goodbyes to her, we knew that it wasn't a final "Goodbye" we were expressing. Because of her trust in Jesus as her Lord and as her Savior…her deep and genuine belief that Jesus had paid the price for her sins and gave her the gift of eternal life (a gift = something you don't earn)…we know that she is in a very cool, wonderful place…beyond what we can even imagine.
And so, for we who also trust in Jesus, who will see her again, it isn't "Goodbye". Instead, it's "See ya later!"

Hey! See ya later! Love you a lot!