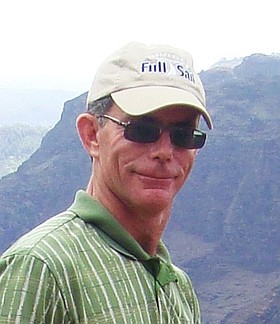 Dean Brian Guess
February 18, 1957 - October 27, 2016
Dean Brian Guess left our world too early on Oct. 27, 2016, from complications of sudden cardiac arrest. Dean was born on Feb. 18, 1957, to Delbert LaVern Guess and Theresa Rosemary Lauzon Guess. Dean arrived the second child of triplets between brother Del and sister Daphne.
Dean attended school, grades 1-12, in Yakima, Wash., and college in Seattle, Wash., graduating from the University of Washington. Dean graduated with a degree in forestry and began working fulltime for St. Regis Paper Company. In November 1979, Dean began his 34-year career at Hood River County with his position in the Forestry Department. At Dean's retirement from Hood River County, he was the director of Public Works which included Parks and Buildings, Museum and Weed and Pest. Dean retired from Hood River County in 2013 and moved with his wife Sandy to Marysville, Wash., to be near family.
Dean developed an interest in house construction as a teen, helping his mom remodel their home. This interest became a profession for Dean outside of his county job resulting in completion of several houses and remodel projects in the Hood River area.
Dean was a strong, gentle man who had a passion for life and loved helping family and friends. After retirement, Dean was able to realize his dream of RVing around the country and wintering and golfing in Arizona. He had an extreme passion for fly fishing and always took a rod with him, whether to a local stream or Maui.
Dean will be profoundly missed by his family and the many friends he made during his life. Dean is survived by his wife Sandy, his four legged girl Gemma, brother Del Guess (Carolyn), sister Daphne Martin (Chuck), sister Dorie Behrstock (Herb), sister Linda King, sister Lynda Baccetti (Rod), brother Michael Milford (Sandra), sister Patricia Isard (Geoff) and many loving nieces and nephews.
Preceding him in death were his parents, brother Dennis Milford and brother Roger Guess.
A celebration of life will be held for Dean on Nov. 19 at 11 a.m. at the Hood River Valley Christian Church, Hood River. Friends and family may sign Dean's guestbook at www. asacredmoment.com.
Services for Dean Brian Guess
November 19, 2016

Celebration of Life: 11 a.m.
Hood River Valley Christian Church, Hood River