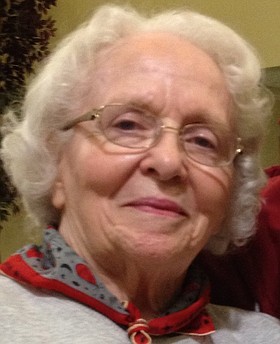 Lenora "Nonie" Veasey O'Malley Mohr
July 27, 1922 - October 30, 2016
Lenora (Nonie) Veasey O'Malley Mohr was born to Irish immigrant parents, Michael and Celia Anne Veasey O'Malley, in Portland, Ore., on July 27, 1922. She grew up in Medicine Hat, Alberta, Canada, where her father was a road master for the Canadian Pacific Railroad. She married John Nicholas Mohr April 26, 1947, in Portland and raised her family in Hood River, Ore.
Nonie adopted John's two daughters, Judith Kathleen and Jeanne Frances and raised them as her own. John and Nonie had three sons, John Michael, James Patrick and Joseph Timothy and infant daughter, Mary Margaret (deceased).
Nonie suffered a massive stroke Oct. 22, 2016, at Marquis Wilsonville, Wilsonville, Ore., and peacefully passed away Sunday, Oct. 30 at Legacy Hopewell Hospice House in Portland surrounded by her three sons. All of Nonie's immediate family and most of her extended family was able to hold her hand and say their goodbyes following her stroke and before her passing.
Mom overcame many challenges in her 94 years with determination, personality and her strong Catholic faith. Her greatest challenges were being afflicted with debilitating polio in 1951 and subsequent post-polio syndrome, and the death of our father in 1960. Despite these challenges, Mom lived her life with poise, dignity and humor.
Mom was a world class mother, grandmother and great grandmother. She was actively interested and involved in the lives of her five children, 10 grandchildren and five great grandchildren, remembering birthdays, anniversaries and special events throughout their lives. Mom was information central for the entire family, keeping us all informed as to our brothers, sisters, nieces, nephews, cousins and all the spouses.
Mom was preceded in death by her husband, parents, sister Margaret O'Malley and daughters Judy DeHart and baby Mary Margaret. She is survived by her daughter Jeanne Ellison (John) and sons John (Shirley), Jim (Colleen) and Joe (Jill); grandchildren Ken DeHart (Liz), Kathleen DeHart Sanders (Martin), Mary Ellison Nichols (Ernie), Karen DeHart Cohn (Bart), Joe Mohr, Michael Mohr, John Mohr, Patrick Mohr and David Mohr and step-granddaughter Cynthia Wallace. She is also survived by five great grandchildren and five great great grandchildren.
A funeral Mass was held on Saturday, Nov. 5 at Resurrection Catholic Parish in Tualatin, Ore., preceded by the recitation of the Rosary. Internment will take place at Saint Mary's Catholic Cemetery in Hood River on Saturday, Nov. 12 at 9:30 a.m.
The Mohr family gives our thanks and offers our appreciation to Legacy Hopewell Hospice House for the exceptional care our mother received while in Hopewell House's care.
Mom believed in and loved each and every one of her family with all her heart and each one of us knew that to be true.
Services for Lenora Veasey O'Malley Mohr
November 5, 2016

Funeral: 11 a.m.
Resurrection Catholic Parish in Tualatin, Ore., preceded by the recitation of the Rosary at 10:30 a.m.

November 12, 2016

Burial: 9:30 a.m.
Saint Mary's Catholic Cemetery in Hood River