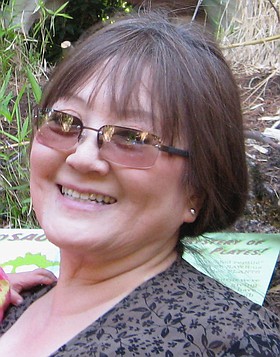 Joan Yasui Emerson
Hood River, Ore.
July 29, 1942 - September 7, 2016
Joan Yasui Emerson lost her battle with Gastric-Esophageal Cancer on Sept. 7, 2016. She was diagnosed with the disease in March of this year, and chose to fight the battle at the Mayo Clinic in Phoenix, Ariz. Her bravery and courage were extraordinary as she fought to overcome her diagnosis. But the treatments took a heavy toll on her body and spirit, and ultimately she lost the fight. Beloved wife, mother, grandmother, sister and friend, her absence leaves a hole in this world and in our hearts.
Joan's journey began in the internment camp at Tule Lake, Calif. Born July 29, 1942, to Ray and Mickie Yasui, she was the eldest child and sister to Tom Yasui and Philip Yasui. Her formative years were spent in the Hood River Valley. She graduated from the University of Oregon, received her Master's Degree in social work from Bryn Mawr, and another Master's Degree in music in the Bay Area. Her travels took her all over the world, but after years away, she returned to Hood River with her husband Chris in retirement. She was a social worker, a music teacher interested in early childhood development, and a skilled fundraiser and advocate. Her days were filled with music and laughter. Her causes were as diverse as the places she travelled. She fought to free Tibet, to assist Haitians, to feed and clothe the homeless, and to assist Native American youth. Her focus and dedication to helping those suffering and in need always kept her humble and grateful. She stood by her beliefs and convictions until the very end.
In her retirement, she was blessed to spend time with her beloved granddaughter, Amanda, and her son Chip (Chris Jr.), and his wife Kelly in Hood River. She loved to share her family history, musical talents, and her love of nature with family and friends. She was often found with her Oregon Ducks hat on, walking stick in hand, and a smile on her face. She would meander through the forests of Mount Hood, where she had a true respect and connection for the area, it's beauty and her history there.
In memory, she would ask that you plant wildflowers or a tree. Or if you wish, memorial donations may be sent to Wy'East Volunteer Fire & EMS Association, in memory of Joan Yasui Emerson, Attn: Greg Borton, 3431 Odell Hwy, Odell, OR 97044.