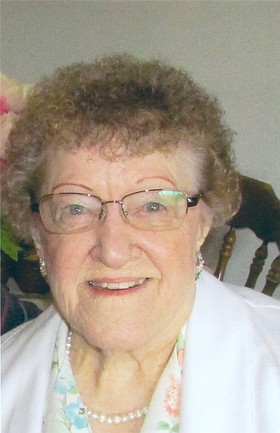 Violet Mae Baker
Hood River
September 3, 1926 - November 14, 2016
Violet Mae Baker, 90, a resident of Hood River, Ore., passed away on Nov. 14, 2016, at Providence Hood River Memorial Hospital due to complications from Congestive Heart Failure. Violet was born on Sept. 3, 1926, to Lloyd and Pearl (Young) Van Riper in Ettrick, Wisc.
In 1940, when Violet was 13 years old, the family moved to Parkdale, Ore., where her parents owned and operated a fruit orchard. Violet graduated from Parkdale High School in 1945. She worked at various jobs in the fruit industry.
Violet married Carle Meeks on Feb. 28, 1947, and they lived in Hood River County for many years, starting their own family, and then moved to Arizona and Southern California for a period of time. Eventually Violet returned to Hood River County to raise her children.
Violet married Jerry Baker on March 14, 1986. Violet worked as a fruit packer for Stadelman's Fruit Company for 25 years, retiring in 1988 after her husband had an injury on his job, which resulted in his death in 1990.
After retiring, Violet enjoyed 12 years of going to Quartzsite, Ariz., with her sister Elmina and brother-in-law Denny Fisher as snow birds during the winter months. She loved attending church, music jam sessions, the flea markets and ice cream at the local McDonald's.
While home, Violet enjoyed visits from her family. When she approached the age of 80, she felt it was time to give up the long drives to Arizona. Her time at home in Hood River was occupied mainly, as she phrased it, by "fancy work." Violet enjoyed crocheting, working with plastic canvas and making beautiful afghans. She was an avid reader and also liked doing word books. She was a very good cook and spoiled her family with delicious baked goodies. Violet attended the River of Life Assembly Church in Hood River Oregon until her health declined in early 2015.
Violet was preceded in death by her husband Jerry, daughter Carolene Meeks, parents, and sisters Luella Herman and Elmina Fisher. Survivors include her sons Keith Meeks, Bakersfield, Calif., and Cary (Janice) Meeks, Hood River, brothers Wayne (Wanda) Van Riper, McCall, Idaho, Earl Van Riper, Hood River, and sister Blanche Neff, Bakersfield, Calif., grandson David (Noemi) Sughrue, Keizer, Ore., granddaughters Nicki Meeks, Anderson, Calif., Carmen Krussow, Bigfork, Mont., Moriah Krussow, Portland, Ore., great grandchildren Marina Mitchell, Andrew Sughrue, Samuel Bishop, and Miles Bishop, and many nieces, nephews and cousins.
At the request of the family, a viewing will be held on Nov. 19 from 11 a.m. to 2 p.m. at Anderson's Tribute Center, 1401 Belmont Ave., Hood River. This will be a time for friends to greet family, pay last respects, look through photo albums and memorabilia, and reminisce; there will be no formal funeral service. Burial will be at the Pine Grove Cemetery.
Arrangements under the direction of Anderson's Tribute Center (Funerals • Receptions • Cremations). Visit www. AndersonsTributeCenter.com to leave a note of condolence.
Services for Violet Mae Baker
November 19, 2016

Viewing: 11 a.m. to 2 p.m.
Anderson's Tribute Center, 1401 Belmont Ave., Hood River