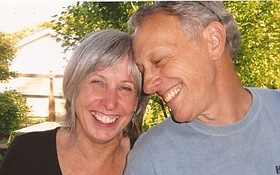 Sally Jo Donovan
April 16, 1956 - November 19, 2016
Sally Jo Donovan lived a life of devotion and determination. Her devotion was to the people whose lives she touched, to the history she discovered and preserved, and to the world's forgotten cats and kittens. Her determination was to see everything she did — no matter how hard — through to its conclusion. She was as beautiful and kind as she was Nebraska stubborn. And she was persistently Irish in her love of family, friends, and fun. Sally made us all better people.
Sally was born on April 16, 1956, to Adele (Cheek) and William Donovan, Jr. in Omaha, Neb. She graduated from Westside High School and earned a Bachelor of Fine Arts degree from the University of Nebraska-Lincoln in 1979. She worked as a cartographer, graphic artist, photographer, and technical illustrator. She then moved to Eugene, Ore., where she graduated with a Master's Degree from the University of Oregon's historic preservation program in 1987.
A year later while living in Portland, Sally worked in Hood River to inventory its downtown historic properties. It was then that she fell in love with the valley and bought a 1913 house on the Heights. Her sensitive restoration of the house included a 1931 electric refrigerator and stove still in daily use. After she began her historic preservation consulting business, Donovan & Associates, she worked on a wide array of projects, including Oregon Coast lighthouses, historic districts, public buildings, residences, irrigation canals, wooden flumes, and pioneer cemeteries. Searching the Library of Congress's online collection, Sally's name yields 261 photographs taken during her career. In March 2016, her professional peers honored Sally with the Oregon Heritage Excellence Award, and May 2016, with the George McMath Historic Preservation Award.
Beyond her career, Sally helped organize an all-volunteer, nonprofit cat rescue organization. She was a veritable Pied Piper whose love for animals drew many abandoned, neglected and rescued felines to her. Memorial donations may be made in her name to Columbia Gorge Cat Rescue online at www.gorgecat.org, or by mail to CGCR, PO Box 231, Hood River, OR 97031.
Sally died peacefully in her home in Hood River of pancreatic cancer on Nov. 19, 2016. She is remembered and dearly missed by her husband of 22 years, Bruce Howard, two brothers Bill (Alba Conte) and Rob Donovan (Jake Wade), sister Nancy Donovan (Bruce Boyd) and four nieces, Adrienne (Brian Haug), Caroline Donovan-Boyd, Lindsey Donovan and Emily (Donovan) and Greg Maconchy, nephew Brad Donovan, two great nephews, Louie and Clive Haug, and goddaughter McKenna Walbridge. Also, her husband's four siblings Helon Howard, Hope Redmond, Heidi Noyes and Dwight Howard and their husbands and children were an important focus in her life.
The outpouring of love and support from her friends during Sally's illness is deeply appreciated by her family. Sally's many close, long-term friendships made Hood River a true home. A celebration of her life will be held in April 2017 in the Hood River valley. An announcement with details of her remembrance celebration will be sent in the near future.
Arrangements are pending under the direction of Anderson's Tribute Center (Funerals • Receptions • Cremations), 1401 Belmont Ave., Hood River. Visit www.AndersonsTributeCenter.com to leave a note of condolence for the family.