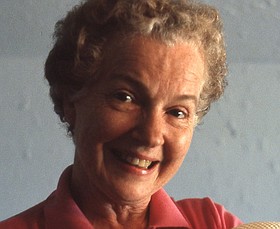 Miriam Ann Danner
Milwaukie, Ore.
July 31, 1920 - November 4, 2016
Miriam Ann Danner, a retired teacher in Portland-area schools, died Friday, Nov. 4, 2016, at her home in Milwaukie, Ore. She was 96.
Ms. Danner was born Miriam Ann Jensen in Hood River, Ore., on July 31, 1920, and raised in the nearby farming community of Dee in a home without electricity or running water. She attended grade school in Dee and later bused to Hood River High School. In 1933, her family moved to Hood River, where her father, Luhr Jensen, had started a fishing tackle factory.
In 1938, she enrolled at Willamette University in Salem, Ore., paying tuition with money she earned packing apples in Odell. While at Willamette, she was a member of Beta Chi and vice president of the Young Republicans (Mark O. Hatfield was president). She graduated in 1943.
In 1945, she accepted a fellowship at New York University, but left it to marry her Salem sweetheart, William Crary, who was graduating from West Point. She moved with her new husband to Fort Benning, Ga., Beppu, Japan, and Fort Lewis, Wash. They had three children before Crary was killed in the Korean conflict in 1950.
With her children in tow, she returned to Willamette the next year to earn a teaching certificate. She then moved to Portland, Ore., where she taught eighth grade at Parkrose School.
In 1954, she married Bill Danner, the owner of the Danner Shoe Co., with whom she had five more children. While raising her children, she taught school as a substitute in Portland Public Schools and Portland Community College, and taught seventh grade at Madeleine School in Northeast Portland. She recounted that in 1968 she was denied a permanent appointment at PCC with the explanation that "we're hiring men this year."
Also that year, following the death of her first husband's only nephew in Vietnam, the war widow with children of possible draft age actively opposed the Vietnam War and volunteered for Eugene McCarthy's presidential campaign.
A lifelong learner, she earned a masters in English from Portland State University in 1970. She earned a certificate in teaching English as a second language in 1975, also from PSU, and in 1977 began teaching ESL at Madison High School in Portland. She retired in 1983, shortly after her husband Bill retired and sold his business, although she continued to volunteer at local schools for many years.
In retirement, Bill and Miriam travelled widely, visiting more than 40 countries (including Botswana, where they went on safari at the age of 89) and making friends throughout the world. Ms. Danner often participated in international volunteer programs, including assisting at orphanages in Romania and schools in India and Honduras.
She was also a longtime docent at the Portland Art Museum and a master rose gardener, winning scores of competitions in the Portland area.
She is survived by her husband of 62 years, Bill Danner; their children, William B. Crary Jr. (Jill), George Crary (Noriko), Peter (Deborah), and Michael, all of Portland; David (Lauren) of Olympia, Wash., Nancy Jeu(Rodney) of Mission Viejo, Calif., and Craig (Stacey) of Hood River; her foster sons, Hien Nguyen (Tram) and Khoa Nguyen (Mimi), both of Portland; 19 grandchildren, 17 great grandchildren, and one great-great grandchild. Her daughter, Molly Whitcomb, predeceased her.
At her request, there will be no memorial service.