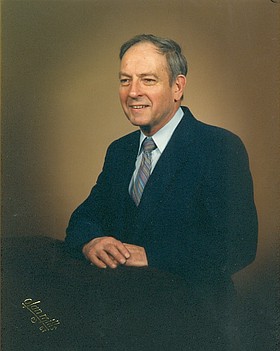 Joseph "Joe" Charles Allen
Nampa, Idaho
July 10, 1921 - November 17, 2016
Joseph Charles (Joe) Allen passed away Nov. 17, 2016, in Nampa, Idaho. He was born in Odell, Ore., on July 10, 1921, the oldest child of Charles W. and Della Z. (Cameron) Allen. He was joined by brother George Allen in 1923.
Joe grew up in Odell, helping to establish the family orchard on Davis Drive. (He always told us how much he hated hoeing strawberries!) As a young man, he and his brother were a part of the Civil Conservation Corps at Zig Zag, Ore.
In 1940, Joe graduated from Odell High School. He attended University of Oregon until March of 1943, when he entered the Army Air Corps as a waist gunner on a B-17 aircraft. He was a member of the 351st Bombardment Squadron, 100th Bombardment Group and was involved in 29 missions over Germany. He was honorably discharged in October of 1945.
After returning home, he attended Oregon College of Education, eventually earning a master's degree in education. He taught school in Oregon, California and Idaho.
He and Mary Ann Hardin were married in 1951. They were blessed with four children: Cynthia (Cindy) in 1952, Gene in 1953, Monte in 1956 and Robert in 1958. The family made several moves over the years, eventually settling in Nampa. Joe and Mary Ann divorced in 1982.
He took his family on many camping and fishing trips when we were growing up. He also helped his family to develop a life-long love of reading and history. Joe was an avid photography buff and took numerous pictures of family, friends and scenery, not to mention home movies.
Joe was a member of the Masonic Brotherhood for more than 50 years. He enjoyed being a part of his lodge and made many lasting friendships there.
Joe was preceded in death by his parents, brother, son Gene, and grandchildren Rose Lynn and Shannon James Rovig. He is survived by daughter Cindy and her husband Marlyn Rovig of Hood River, son Monte and his wife Cecilia Allen of Nampa, and son Robert Allen of Homedale, Idaho. He is also survived by grandchildren Shaun Rovig, Shane Rovig, Camille Kirkpatrick and Cameron Allen, and several great grandchildren.
A graveside service will be held in Hood River at a later date. Arrangements are under the direction of Anderson's Tribute Center (Funerals • Receptions • Cremations), 1401 Belmont Ave., Hood River. Visit www. AndersonsTributeCenter.com to leave a note of condolence. for the family.