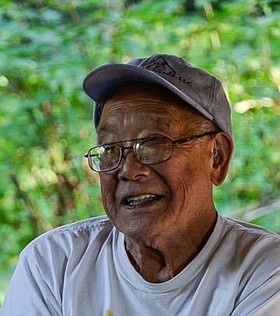 Sumio "Soup" Fukui
Hood River, Ore.
June 20, 1926 - November 24, 2016
Sumio "Soup" Fukui, a retired Hood River fruit farmer, passed away Thanksgiving evening, Nov. 24, 2016, at the age of 90 years. He was comforted by his faith, family, friends, and special canine companion "Petite" the last few months when his health was failing.
"Soup" was born in Dee, Ore., on June 20, 1926, to Chohei Fukui and Shigeko Iwasa Fukui. He was the fourth child of Chohei and Shigeko, following brother Kay (1921), sister Nobuko (1922), brother Hifumi (1924), and preceding Mary (1928). No one seems to recall why Sumio was known by family and friends as "Soup," but that has been his moniker for as long as most can remember.
Soup was a farmer throughout his life. It was his passion as well as his career. As was the case in the first half of the 20th century, farming was a family enterprise, with children and parents tending all aspects of the farm, animals, vegetables and fruits. The children all enjoyed hikes in the neighboring hills of Dee where they hunted for Matsutake mushrooms or fished in the Hood River for trout and the Columbia for salmon.
Soup attended school in Dee during the 1930s. Along with most of the Japanese American children living in the area, Soup attended public school during the week and Japanese school in the late afternoons or on weekends.
Soup traveled into Hood River for his first two high school years. His education was interrupted when his entire family, along with all people of Japanese ancestry, were forcefully evacuated in May 1942. The train from Hood River left them at a makeshift camp in Pinedale, Calif., with only the possessions they could carry. A few months later, they were moved to Tule Lake, Calif., where they stayed in a more permanent internment camp, enduring stifling summers and freezing winters in the desert. The Fukuis were transferred again to Heart Mountain, Wyo., and stayed there until the entire Fukui family returned to their Dee farm after World War II ended.
In 1952 Soup enlisted in the U.S. Army, serving his country through 1954. He returned to the farm he loved and soon married Aiko Ouchida, a Gresham girl, in 1956. They welcomed a son Josh Randy Fukui into their lives in 1963, but tragically he died in 1978.
Aiko worked side by side with Soup on the family farm. Their home was filled with children and family from the extended Fukui and Ouchida side. It was always filled with an abundance of great Japanese food, which Soup dearly loved. He enjoyed the nieces and nephews of his extended family and treasured any excuse to set a great table with delicious Japanese treats. His hospitality and friendship extended to all those who worked with him on the farm, hosting a sumptuous harvest spread that is still remembered by many of his farm workers.
In 1985, Soup and Aiko patented the Golden Russet Bosc, a pear that naturally mutated on their farm. Soup remembered that there was always a strange, sort of ugly pear that grew in the orchard from decades' past. The Golden Russet Bosc pear is widely propagated and can be found all across the Hood River valley, Pacific Northwest and U.S. It is very possible that Fukui Golden Russet pear is grown worldwide.
In 1995, Soup and Aiko sold the Dee farm and moved into the town of Hood River. They enjoyed retirement and making new friends in the neighborhood. Their swimming pool was a magnet for children and adults alike. In 1998 Soup lost his wife of 42 years, leaving no survivors in his immediate family. At the time of his passing Soup had outlived his parents and all of his siblings.
In 2008, Soup lovingly accepted the Lord into his life. His baptism in Lost Lake and fellowship in the Covenant Christian Church was a highlight of his life. Soup's faith helps the family be at peace with his passing, knowing he is now rejoicing in heaven. John 3:16: "For God so loved the world that he gave his one and only Son, that whoever believes in him shall not perish but have eternal life."
The family would like to thank the Providence hospital staff, Hospice of the Gorge and family and friends for their compassionate care in his final months of life. If you wish, donations may be made to Hospice of the Gorge, 1630 Woods Ct., Hood River, OR 97031.
A viewing will be held Friday, Dec. 2 between 4-7 p.m. at Anderson's Tribute Center, 1401 Belmont Ave., Hood River. A service honoring his life will be held Saturday, Dec. 3 at 1 p.m. at Covenant Christian Church, 455 Frankton Road, Hood River.
Services for Sumio Fukui
December 2, 2016

Viewing: 4 p.m. to 7 p.m.
Anderson's Tribute Center, 1401 Belmont Ave., Hood River

December 3, 2016

Funeral: 1 p.m.
Covenant Christian Church, 455 Frankton Road, Hood River