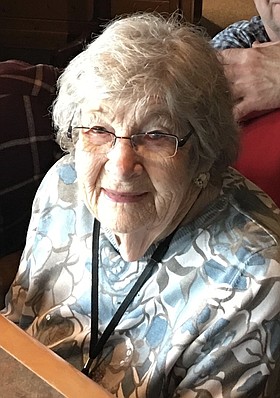 Margaret Phillips Gehrig
Hood River, Ore.
July 10, 1922 - October 7, 2016
Margaret Gehrig once said she wanted to live to her 90s. She did just that, passing away Oct. 7 at the age of 94.
Margaret Phillips Gehrig was born July 10, 1922, in Morris, Minn., where she spent her childhood fishing, playing with her younger siblings, and helping on the family farm. From the time she was 12, she wanted to be a nurse, and at the age of 22 she fulfilled that dream.
Shortly after graduating from nursing school in Aberdeen, S.D., Margaret secured a job at the Hood River Hospital where, in 1945, she met her husband Rudy. They were married in February of 1947. Margaret did volunteer nursing work her entire life, taking blood pressure and giving shots and encouragement to those who needed it.
Margaret was a soft-spoken, quiet partner to Rudy for 52 years, and together they raised nine children. Family and faith were always the most important part of her life. She enjoyed gathering everyone for church on Sunday mornings and then heading to the surrounding woods to explore in the afternoon. Many a Saturday night family and friends would gather in their den for food, stories, and conversation.
Margaret was an avid reader and enjoyed reading with children through the SMART program. Her background in nursing led her to spend time as a hospice volunteer. She was also a longtime member of St. Mary's Catholic church and the Odell Garden Club.
She is survived by her children Lou (Anne), Kathi Nordlund (Ron), Margi Laird (Michael), Butch (Patricia), Mary Beth Kennedy (Pat), Jane Cardwell, and Tina Grant (Marty); 17 grandchildren, Jeff (Amy) Gehrig, Jenny Gehrig Hall (Davey), Jessica, Colin (Emily), and Jonathan Gehrig, Lisa, Lynda, Danny and Victoria (Josh) Arakelian, Crystal and Jason Thayer, Jack and Andy (Sadie) Kennedy, Joe Gehrig, Ryan and Drew (Taylor) Cardwell, and Rudy Grant; and three great grandchildren, Blake, Drew, and Molly. She has two surviving brothers, Warren and Bud, both of Wisconsin. Two sisters, Catherine Crapper and Deloris Roberts, a brother, Charlie Phillips, her husband Rudy, son Dan (Judy McNeill) and daughter Jenni preceded her in death.
A funeral mass of Christian burial will be held Tuesday, Oct. 11, 2016 at 10 a.m., immediately followed by a reception at St. Mary's Catholic Church, 1501 Belmont Ave., Hood River. Interment will be private.
Donations in her memory may be made to Providence Hospice of the Gorge (1630 Woods Court, Hood River, OR 97031), the SMART program, St. Mary's Catholic Church (1501 Belmont Ave. Hood River, OR 97031), or the charity of your choice.
Arrangements are under the direction of Anderson's Tribute Center (Funerals • Receptions • Cremations), 1401 Belmont Ave., Hood River.
Visit www.AndersonsTributeCenter.com to leave a note of condolence for the family.
Services for Margaret Phillips Gehrig
October 11, 2016

Funeral: 10 a.m.
St. Mary's Catholic Church, 1501 Belmont Ave., Hood River; reception immediately following