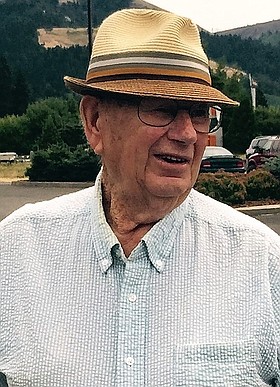 Marvin "Jack" Duniphin
Hood River, Ore.
May 17, 1926 - October 8, 2016
Marvin "Jack" Duniphin was born on May 17, 1926, in Austin, Texas, where he lived until the age of 3. At 3 years old, Jack moved with his mother Samantha and little brother Don to Miami, Okla.
After his mother's stroke, Jack was adopted by his Uncle Sam and Aunt Mae.
Jack held a number of different careers throughout his adult life, from supporting British soldiers learning how to fly during World War II to working as a butcher in a meat packing company. In September of 1947, Jack purchased a handful of kitchen utensils and linens for a home, and married the girl next door, who survives him today after 69 wonderful years of marriage.
Just two years later, Jack and his family relocated to Oregon in search of steady work, which he found at several local orchards and at Hanel's Lumber Company. He and other volunteers from Hood River helped build what is now Jackson Park. Other past volunteer commitments included being the fire chief of the Odell Fire Department.
Jack's unfaltering work ethic and devotion to providing for his family defined his character. In addition to working, Jack loved to travel, fish and garden. He was proud of his home and garden and received numerous compliments, even from strangers. A humble and gracious man, he partially retired from Hanel's Lumber Co. in 1990. After a few years of "rest" he went back to work part-time at Columbia Gorge Family Medicine and fully retired at the age of 90 after being diagnosed with cancer.
Jack's life story is a testament to the love he had for his dear family. He is survived by his wife of 69 years, Irene Duniphin, brother Don (Mildred) Duniphin of Miami, Okla., sisters-in-law Winona Branson and Juanita Applegate of Hood River, Ore., and Navaline Chapman of Bend, Ore., sons Stuart Duniphin and Christopher (Shelly) Duniphin of Hood River, grandchildren Jason, James, Scott, Miranda (Mike) Henricksen, Chrissy (Ian) Bucrek and Gaby, great-grandchildren Jordan, Eva, Alex, Summer, Sophia, and his cat, Sassi.
He was preceded in death by his and Irene's beloved son Russ Duniphin, mother Samantha, adopted parents Sam and Mae Duniphin and mother and father-in-law Bert and Meryl Ketcher.
He accepted the Lord as his Savior on Oct. 3, 1984, and was baptized on Dec. 16, 1984, and attended the River of Life Assembly in Hood River.
Jack Duniphin was surrounded by loved-ones during his final days. He lost his battle to a rare form of cancer on Oct. 8, 2016.
Services for Marvin "Jack" Duniphin will be at 1 p.m. on Thursday, Oct. 13 at River of Life Assembly Church, 979 Tucker Road, Hood River, with an internment at Idlewilde Cemetery, 980 Tucker Road, Hood River, immediately following. Lunch will be provided at the River of Life Assembly once funeral services have been completed. All are welcome.
Arrangements are under the direction of Anderson's Tribute Center (Funerals • Receptions • Cremations), 1401 Belmont Ave., Hood River.
Visit www.AndersonsTributeCenter.com to leave a note of condolence for the family.
Services for Marvin Duniphin
October 13, 2016

Funeral: 1 p.m.
River of Life Assembly Church, 979 Tucker Road, Hood River, with an internment at Idlewilde Cemetery, 980 Tucker Road, Hood River, immediately following