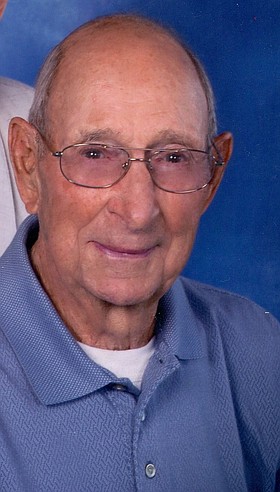 Delmar Leslie Swyers
The Dalles, Ore.
December 5, 1919 - October 5, 2016
Delmar Leslie (Fritz) Swyers passed away Oct. 5, 2016, at Oregon Veterans' Home in The Dalles, Ore. He was born Dec. 5, 1919, in Hood River, Ore., to Walter T. and Lula P. (Steelman) Swyers, the third of seven children.
He spent his early years in the Pine Grove area of the Hood River valley, attending elementary school there and then going into town to Hood River High School, where he played football and baseball.
With the threat of war imminent, he was drafted into the Army in 1940 and then immediately joined the Army Air Corp. After training, he was sent to England, where he served as a radiomen/gunner on a B-17 bomber. During a bombing run on Dec. 20, 1942, his plane was shot down and landed in the Seine River near Paris, France. Despite shrapnel wounds, earning him a Purple Heart, he made it ashore, was captured and spent the next two and a half years as a POW, mainly in Stalag XVII-B.
Upon his liberation and discharge in 1945, he returned to Hood River and married Barbara Helen Frasier. Then duty called and he rejoined the new U.S. Air Force. During his 20 years of service, the couple raised three sons while being stationed in France, in the Caribbean, around the U.S., and serving in the Korean War.
He retired in 1964 and returned to Hood River, where he purchased the orchard from his father. In 1967, he married Dorothy Dikeman Smith and later built his home on the Pine Grove property.
He liked to hunt, fish, bowl, rock hound, and travel. But he loved his orchard and his family.
He was preceded in death by his parents, brothers Matthew, Daryl and Wesley, sisters Myrtle Graff and Eileen Skofstad, sons Delmar Lee and David, and step-son Michael Smith. He is survived by his wife, Dorothy, sister Maxine Carter, son Donald, step-daughter Vicki Hauley (Doug), step-son Raymond Smith (Melva), daughter-in-law Debbie Swyers (David), and many grandchildren and great-grandchildren.
Services are planned for noon on Wednesday, Oct. 12 at Andersons Tribute Center, 1401 Belmont Ave., Hood River, with a reception to follow at Hood River Valley Christian Church, 975 Indian Creek Road, Hood River. Interment will be at Pine Grove Butte Cemetery, 2687 Van Horn Drive, Hood River, at 2:30 p.m.
Visit AndersonsTributeCenter.com to leave a note of condolence for the family.
Services for Delmar Leslie Swyers
October 12, 2016

Funeral: noon
Andersons Tribute Center, 1401 Belmont Ave., Hood River