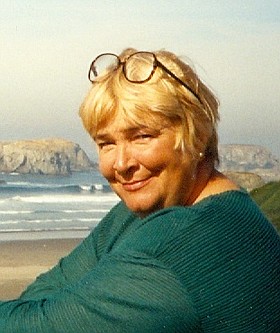 Terry Lynn Fletcher
Hood River, Ore.
June 12, 1944 - October 5, 2016
Irrepressible and vibrant, forthright and occasionally profane, Terry Lynn Fletcher was a force of nature to everyone who knew her.
Terry Lynn (TL to her closest friends and family) was born on a scorching day in The Dalles, Ore., on June 12, 1944. Her mother, Olive (Dickson) Fletcher, was living with her mother while her husband, Arthur Fletcher, fought in World War II. Upon his return they raised Terry Lynn in Odell, Ore., where she graduated from Wy'east High School in 1962.
TL married Don Friend in 1966 and they moved to Wyandotte, Okla., where she welcomed her daughter Jill Lynn. Terry Lynn and Don divorced in 1968 and she returned to live in Odell with Jill. Three years later she married Dick Radliff and in 1975 they welcomed another daughter, Jody Lynn. Terry Lynn and Dick divorced in 1989, yet they remained good friends and continued to celebrate their daughters' milestones as a family over the years.
Terry Lynn instilled a fierce work ethic in her daughters. She earned her cosmetology license and owned a hair salon on Oak Street for nearly 20 years. She continued as a hair dresser and farmed full time even after closing her Hood River salon by renting space in Odell and finally working out of her home for her friends and longtime clients.
Her energy seemed endless; she always held two or more jobs at a time. A fulltime orchardist in addition to cutting hair, she packed fruit at Diamond Fruit Growers and worked as a full time custodian at Parkdale Elementary from 1996 until 2010. She worked in stores, such as Clem's in Odell and Windmaster Market. From the mid- '80s to 2001, she farmed her father's orchard and leased neighbors' land, growing pears and apples on 80 acres.
Terry Lynn was a woman of strong opinions. If you didn't agree with her, she was more than happy to help change your mind. She was a firecracker, at times a sassy, vivacious party girl and hostess who helped put on numerous parties and functions for her friends, family and the community. The central theme to them all was "Never run out of food or beverage!" even while hosting over 100 guests at her family Christmas gatherings. She favored big, passionate colors — such as sunflower yellows, bold reds and purple — and laughed at everything, including herself.
If she was a little rough around the edges, she was always genuine. You knew she liked you when she gave you a middle-finger salute, which was her version of a thumbs-up. Her middle finger was crooked from decades of cutting hair, but she still managed it. Off-color terms were her highest forms of endearment.
Terry Lynn had a softer side, shown by her willingness to feed any stray soul that found her doorstep, whether it was a dog, a cat or a human. When friends and clients passed away, she went to Anderson's Tribute Center to style their hair one last time.
She enjoyed her pinochle group on Mondays, read murder mysteries and watched nearly everything on Oregon Public Broadcasting. She grew daylilies, asters, lilacs and rhododendrons, and her gardens were her passion. They were a bit less than immaculate and, like their owner, a little rough around the edges. However, they were also bold and brilliantly colored with flowers that reflected her personality and, yes, a bit hard to contain.
Eternally optimistic regarding casinos, Terry Lynn rarely met a blackjack table or slot machine she wasn't enthusiastically willing to help relieve of their money. However, always sensible, she would never "take more than I am willing to lose for entertainment."
She had many friends, too many to mention, but her closest friends included Donna Jo Stair, Kathy Guthrie, Barb Hanel, Lila Draper, Mary Martha Zeman, and Sandy Cameron. Mike Goe , the beautiful Bob Huskey, and Butch Gehrig were also dear friends, and Inez Lopez was like a son to her. She and Tom Yasui frequently traded books. It seemed like she knew everyone in the valley as well as their stories.
Terry Lynn passed away at home on Oct. 5, 2016. The family would like to thank the Odell Fire Department for their empathy and assistance to the family on that evening, particularly Dwight Moe and Karl Smiley.
Terry Lynn is survived by her mother, Olive Fletcher, her daughters, Jill (Kyle) House and Jody (Don) Loop, her stepson Jeff (Terra) Radliff, her granddaughter (the light of her life), Hannah Hart and sister Karen Held. Since she would often state, "I'm one cat short of being a crazy cat lady," she would want her four cats mentioned as well: Pretty Boy, Pretty Girl, Boots and Tiger.
A celebration of her life will be held 2 p.m. on Sunday Oct. 16 at The Gorge Room at the Best Western Plus Hood River Inn, led by Bob Huskey.
Donations are encouraged in lieu of flowers to the Wy'East Fire & EMS, P.O. Box 56, Odell, OR 97044.
Arrangements are under the direction of Anderson's Tribute Center. Visit AndersonsTributeCenter.com to leave a note of condolence for the family.
Services for Terry Lynn Fletcher
October 16, 2016

Celebration of Life: 2 p.m.
The Gorge Room, Best Western Plus Hood River Inn