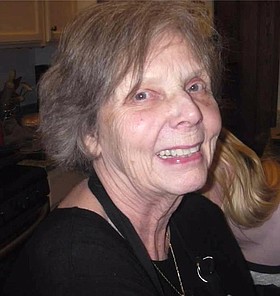 Judith Eileen Eastman Beam
Downers Grove, Ill.
April 27, 1938 - October 10, 2016
Judith Eileen Eastman Beam passed away on Monday, Oct. 10, 2016, at Advocate Good Samaritan Hospital in Downers Grove, Ill., surrounded by her large family. Her death was the result of her deteriorating health and a fall at her home.
Judith was born in Hood River, Ore., on April 27, 1938, and was the daughter of Iola and Donald Eastman. She married James Lawrence Beam on June 13, 1959, and the couple produced five children who survive her: Jeffery Lawrence Beam (Penny), Elizabeth Anne Rabe, Stuart Carlton Beam (Amy), Laura Jean Mullen (Todd), and Matthew James Beam. She is also survived by eight grandchildren and one great-grandchild. The grandchildren are Katy Beam, Kellie Beam, Kristen Rabe Zwolski, Benjamin Rabe, Ryan Beam Ortiz, Hanna Real, Kevin Real, and Jake Mullen. The great-grandchild is James Ortiz. She is also survived by siblings Gary Michael Eastman (Kim), James Donald Eastman (Barbara) and many nieces and nephews.
She was proceeded in death by her parents, Donald (Moose) and Iola Eastman and a brother, William Harold Eastman.
She graduated from Wy'east High School in 1956 and was very popular with her classmates.
The family lived in many places while James was in the Navy: Pearl Harbor, Hawaii, Pensacola, Fla., Brunswick, Maine, Virginia Beach, Va., and finally, for 45 years, in Elgin, Ill., where she became involved in continuing her education and aiding the community as a hospice volunteer, tutoring students in English as a Second Language, volunteering as a sexual assault advocate at the Elgin Community Crisis Center, and especially always being available for her children and grandchildren.
Services will be at the Laird Funeral Home. Viewing will be from noon to 3 p.m. on Sunday, Oct. 15, with a farewell service to follow the viewing.
In lieu of flowers, donations may be made to the Elgin Lions Club Foundation in her name or to a preferred charity.