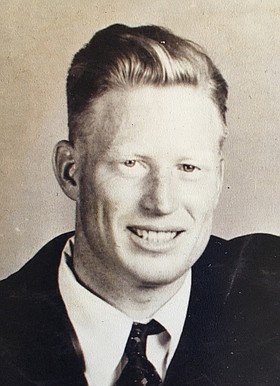 Marvin "Tom" Leon Cagle
Odell, Ore.
December 30, 1924 - September 30, 2016
Marvin "Tom" Cagle passed away Sept. 30, 2016, at his home surrounded by family in Odell, Ore. He was born Dec. 30, 1924, in Quinton, Okla., to Arvel Watson Cagle and Okla (Smith) Cagle. Tom was the oldest of 10 children. He married Lydia Vallier Gaines March 24, 1946, in McAlester, Okla. They had six children. Soon after the birth of Jim, they moved to Odell, a place they would call home for the next 63 years.
Tom is survived by a brother, Glenn Cagle; sister, Clara Mae; daughter Mary Lou Cooley, Michael Cooley and their two sons, Greg and Bryan; son James Henry Cagle, Janice Abbey Cagle and their children, Gianna, Joshua and Laura; daughter Lara Lynn Cushing, Steve Cushing and sons Benjamin and Charlie; daughter Lela Hulahan, Mike Sherman, daughter Melissa and son Shawn; son Carl Cagle, Carmen Cagle and son James; daughter Carla Kragness, Mike Swanzy, son Jordan and daughter Mary; and numerous grandchildren, great grandchildren, nephews, nieces and his lap dog Tegan.
He was preceded in death by brothers James, Arvel (Junior) and Calvin; sisters, Catherine (Inez), Janalma (June), Mildred and Patsy; granddaughter Jennifer Lyddon Isaacson; and wife, Lydia Cagle.
He was a veteran of the Army during the Korean War, where he served as a mechanic.

Tom was a man of many trades. He built the very home he would pass away in. He owned a service station, worked on the dam, did farming and helped build Highway 35 going up to Mount Hood. He also helped build Highway 126 from Eugene to Mapleton. His passion, however, and his expertise was as an orchardist. His ability to create the perfect tree bearing the most fruit was second to none.

While he was known for his tireless hard work and perseverance in life, Tom will always be known for his commitment and dedication to his family. Raising six children was not always easy and kept him working a lot to provide for such a large family.
Lydia was the love of his life. His loyalty to her was unmatched. They were by definition a team in every aspect of their lives. When Lydia got sick and started her journey to the afterlife, it was Tom who cared for her. When she was moved to a care facility, you could count the days on one hand that he didn't show up with a meal that he prepared at home to feed her and give her the love that only a husband could give. He did this seven days a week, 52 weeks a year for eight years. Good weather or snowing like crazy, he made the 7-mile journey to be by her side.
Marvin Leon Cagle had an impact on all the lives he touched. His loss is felt by more than just family and when his name pops up in the paper and many read this, I am sure many fond memories of a man so dedicated to helping others will be on many minds. You will be sorely missed, Tom.
Special thanks to Heart of Hospice.
A memorial service will follow at a later date.
Arrangements are under the direction of Anderson's Tribute Center (Funerals • Receptions • Cremations), 1401 Belmont Ave., Hood River. Visit AndersonsTributeCenter.com to leave a note of condolence for the family.