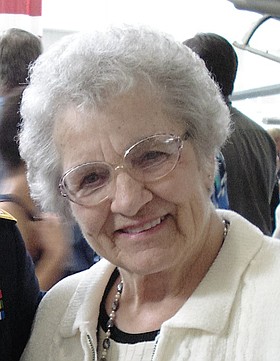 Louise Ellen (Williams) Francois Neitch
Troutdale, Ore.
December 29, 1930 - October 14, 2016
Louise Ellen (Williams) Francois Neitch passed away peacefully on Friday evening, Oct. 14, 2016, in Troutdale, Ore., with family by her side.
Louise was born on Dec. 29, 1930, and raised in The Dalles, Ore., the third of four children born to Asa Samuel ("Ace") Williams and Zoe Ellen (Scobee) Williams. As a teenager, she was a member of the Booster Girls, a local drum and bugle corps. She played the bugle during their performances, which included three Rose Festival Parades in Portland. Louise was an active and social student. She participated in many school functions and several sports, including the one that would become her lifelong favorite, bowling. She graduated from The Dalles High School in 1949.
Louise married Walter Francois on Nov. 19, 1950. They raised four sons together and cultivated cherry and peach orchards in the Mill Creek valley. Louise was a room mother at Colonel Wright Grade School for each of her boys. She was also active in the local community as a 30-year member of Epsilon Sigma Alpha, a philanthropic organization. She held various offices, serving twice as president of the Delta Alpha Chapter. She was a member of the Alpha Pi Chapter in The Dalles, and served as President of the Northwest District Council in Portland.
Louise went to work for the Wasco County Sheriff's Office as a matron-dispatcher after she and Walt divorced in 1976. It was through this new role that she met the love of her life, Vernon Joe Neitch, a senior trooper with the Oregon State Police. They were married Aug. 12, 1977. Louise's family expanded with the addition of Vernon's two young daughters, whom she then helped to raise.
Vernon and Louise both retired from law enforcement in 1989. They took a two-month trip to Europe to see friends in Denmark and tour Sweden, Germany, Belgium, Holland, France, Switzerland, Austria and Italy by train. Then they became "snowbirds" for 15 years, travelling the United States and Canada by motorhome and wintering in Arizona with other RV friends.
Louise was a dear friend, sister, mother, grandmother and great-grandmother. She will be missed! She was predeceased by her husband, Vernon, older sister, Betty Elkinton, and her brother Preston Williams. She is survived by her younger sister, Frances Brostrom (Don) and her children: Donald Francois (Jacque) and David Francois of The Dalles, Douglas Francois (Gary Pagano) of Palm Springs, Calif., Michael Francois (Tracy) of Gresham, Ore., Dana Leischner (Daniel) of Canby, Ore., and Lorna Williams (John) of Vancouver, Wash. She is also survived by many wonderful grandchildren and great-grandchildren.
A service will be held Saturday, Oct. 22 at 11 a.m. at Anderson's Tribute Center. A viewing will be held from 9-11 a.m. on Saturday, Oct. 22, also at Anderson's.
Arrangements are under the direction of Anderson's Tribute Center (Funerals • Receptions • Cremations), 1401 Belmont Ave., Hood River.
Visit AndersonsTributeCenter.com to leave a note of condolence for the family.
Services for Louise Ellen (Williams) Francois Neitch
October 22, 2016

Viewing: 9 a.m. to 11 a.m.
Anderson's Tribute Center
Funeral: 11 a.m.
Anderson's Tribute Center