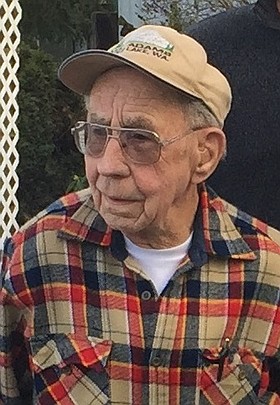 Eldon Thomas Cates
Odell, Ore.
October 21, 1934 - October 17, 2016
Eldon Thomas Cates of Odell, Ore., died of complications during surgery on Oct. 17, 2016, at Providence St. Vincent Medical Center of Portland, Ore. He was born Oct. 21, 1934, and was 81 at the time of his death.
Eldon was born in Watertown, S.D., to Thomas and Anna (Roethler) Cates. The family moved to Hermiston, Ore., and Eldon got a job doing construction on the Harvey Aluminum Plant in The Dalles, Ore. After its completion, he stayed on with the company, becoming a supervisor. Eldon worked at the plant for 26 years, until they began the process of shutting it down in 1985.
Never one to slow down, Eldon began work with East Fork Irrigation until reaching retirement age. Even then he worked part-time at Hood River's NAPA Auto Parts.
Eldon was well known on the local "yard sale circuit," where he loved to negotiate and was always proud of the good deals he brought home to show Mary. His kids cringe when they tell of his victories over used car salesmen!
Eldon met his wife Mary and the two married Sept. 6, 1958. Along with Mary, he leaves behind four children, Brenda (and Wes) Stanneart, Cheryl (and Joey) Sheirbon, Janet (and Tom) Ryan, and Mike Cates (whose wife, Debbie, lost her battle with cancer on Oct. 11, 2016); grandchildren Kellie, Rachel, Mike, Becky, Taylor, Chris and Courtney; and 10 great grandchildren. He was preceded in death by his parents, brother Chuck and sister Ruth.
Eldon was never one for "big events" and it was his wish not to have any service; however, shared memories or notes can be brought to Anderson's and they will be cherished by his family.
Arrangements are under the direction of Anderson's Tribute Center (Funerals • Receptions • Cremations), 1401 Belmont Ave., Hood River. Visit AndersonsTributeCenter.com to leave a note of condolence for the family.