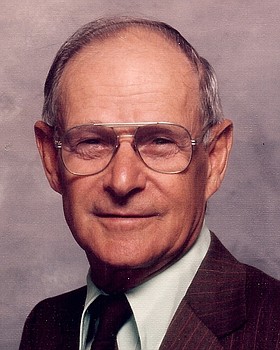 Vernon Wayne Picking
Corvallis, Ore.
December 31, 1924 - October 7, 2016
Vernon Wayne Picking, age 91, passed away at Good Samaritan Hospital in Corvallis, Ore., on Friday, Oct. 7, 2016, with his family by his side. He was born to parents Fred and Bertha Picking in Waubun, Minn., on Dec. 31, 1924.
In 1931, when Vern was 7, his family packed up all their belongings in a Model A Ford and moved to Hood River to work in the orchards. Vern attended Odell grade and high schools, skipped third grade, and graduated valedictorian of his class in 1941. It was the war years and Vern was drafted into the U.S. Army Air Corps. He was sent to Officer's Training at Washington State University, where he graduated second among other potential U.S. Air Corp officers. Since both of his older brothers were serving overseas (Boyd in London and Chuck in New Guinea), it was the practice of the time for the youngest brother to remain in the United States, so Vern was sent to do cold weather testing in Fairbanks, Alaska.
At the end of the war, Vern was offered his Army Air Corps Lieutenant's Bar if he remained in the Air Corps, but he refused because he was missing Hood River and his family. Back home his older brother, Chuck, had been dating Mary Ellen Wirrick. Mary Ellen's best friend was Carol Lippman. Vernon began dating Carol. Upon her graduation from Odell High School in 1946, they became engaged. After Carol graduated from the University of Oregon, they were married on Aug. 20, 1950, at the Odell Methodist Church.
Meanwhile, during those four years while Carol was in college, Vern had been working at the mill and had been building their future home on Paasch Road in Pine Grove, where they would continue to live for the next 50 years. His brother, Chuck, and Carol's best friend, Mary Ellen, had gotten married the year before, so best friends were now sisters-in-law.
Vern took a night job as a police officer for the City of Hood River in 1952. By 1954, Carol and Vern had three young children. At the urging of his wife, due to safety concerns of the job, Vern borrowed money from his father-in-law to build the Pine Grove Texaco Service Station on Highway 35. In 1957, their fourth child, Stuart, was born.
In 1954, Vern joined the Pine Grove Fire Department as a volunteer and remained a member for 46 years. Since the fire department was right behind the service station, Vern was usually one of the first responders with the fire truck, often asking a customer he knew to watch the gas station while he was out on a fire call.
Vern retired in 1986 and sold the Pine Grove Texaco Service Station to Lou Gerhrig. In 2000, he and his wife Carol moved to Corvallis to be near family. Vern is survived by his daughter Ginny (Rick) Taylor of Corvallis, son Steve (Liz) Picking of Albany, Ore., and daughter Jeanne (Dan) Hodges of Roseburg, Ore., grandchildren Christi (Vince) Pontier, Ryan Hodges, Caitlin Taylor, and Rand Taylor, sister-in-law Mary Ellen Picking, and numerous nieces and nephews.
He was preceded in death by his wife Carol, son Stuart, brothers Boyd and Chuck Picking, sister Maude Baskins, sisters-in-law Virginia Cunningham and Betty Jo Picking, and brothers-in-law Leland Baskins and Charles Cunningham. Vern will always be known for his love of fishing and hunting, but most of all for his love of family and friends.
A celebration of life will be held at Anderson Tribute Center on Saturday, Oct. 29 at 1 p.m.

Donations in Vern's name can be made to the Pine Grove Volunteer Fire Department.
Arrangements are under the direction of Anderson's Tribute Center (Funerals • Receptions • Cremations), 1401 Belmont Ave., Hood River, Ore. Visit AndersonsTributeCenter.com to leave a note of condolence for the family.
Services for Vernon Wayne Picking
October 29, 2016

Celebration of Life: 1 p.m.
Anderson Tribute Center