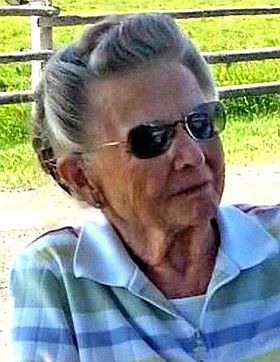 Nona Nunamaker McCormick
Baker City, Ore.
January 20, 1926 - October 18, 2016
Nona Nunamaker McCormick, 90, of Baker City, Ore., died peacefully on Oct. 18, 2016. Per her request, there will not be a service.
Nona was born Jan. 20, 1926, to Don and Edna (Piercy) Nunamaker in Hood River, Ore., where she lived most of her life. For 85 years, she lived within a two-mile radius from where she was born. Five years ago, she moved to Baker City, where she enjoyed time with her daughter and extended family, including the caring staff and residents at the Bee Hive Home.
It was in 1948 when Nona married Isaac Murphy. Together they had two girls. After Isaac died in 1987, Nona remarried in 1992 to James McCormick.
Nona spent most of her life on the ranch tending to an apple and pear orchard. For a time before she married, she did bookkeeping for the Mayflower Company in Boardman, Ore.
Nona cherished the springtime and all the colors that came with it. She enjoyed working in her yard and with her flowers. She also loved diamonds and choose not to wait for a special occasion to wear them, but instead wore them as if each day were a special occasion.
Nona loved birds and faithfully fed them every day. It was fitting that on the very hour which Nona passed that a large owl stood watch outside her residence as she made her final journey home.
Nona was preceded in death by her parents, Don and Edna Nunamaker, husbands Ike Murphy and Ray McCormick, brother Robert Nunamaker, sister Daphne Hukari, and stepmother Aileen Nunamaker.
Nona is survived by her daughters, Ella DeVore (Andy) of Baker City, and Peggy Murphy of Vancouver, Wash., grandchildren Buri (Adam) Slippy of Union, Ore., Lynn (Lauren) Ginader of San Antonio, Texas, Bert (Shelley) DeVore of Baker City, and Joan Hagon of Ontario, Ore., and nine great grandchildren.
For those who would like to make a memorial donation in memory of Nona the family suggests diabetic, cancer or heart associations through Tami's Pine Valley Funeral Home, PO Box 543 Halfway, OR 97814.
Online condolences may be shared at www.tamispinevalleyfuneralhome.com.