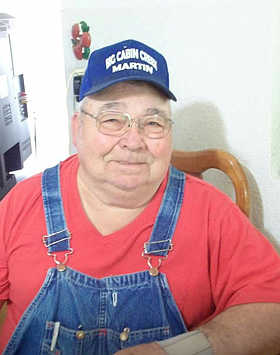 Robert L. Stratton, Sr.
Hood River, Ore.
May 21, 1938 - August 28, 2016
Robert L. Stratton, Sr., age 78, passed on Sunday, Aug. 28, 2016, in Hood River, Ore.
Robert was born on May 21, 1938, in Olvey, Ark., to Archie E. Stratton and Eula Ilene Manley. With just a seventh grade education, he went on to join the U.S. Navy and served as an airplane mechanic aboard a carrier. After he left the Navy, he married Gladys Martin on April 20, 1959 (she passed away on Oct. 22, 2001). After having their first two children, they moved to Oregon in approximately 1968, and had their third child in 1970. Robert worked at Reynold's Metal Company for many years before retiring, living in Cascade Locks. Robert later moved to Hood River and married Kay Gordiano on June 20, 2008. Robert loved her family as his own.
Robert was first and foremost a true family man — a husband, a father, a grandfather, and uncle. Nothing meant more to him than his family and friends, many of his friends whom he considered family. He took special interest in his grandchildren and great-grandchildren. He also liked to travel back to Arkansas and Oklahoma to visit friends and family as often as he could. He was a very generous man who wore his heart on his sleeve, who would give his last to anyone who needed it, and never met a stranger. He was a mechanic who also dabbled in repairing electronics and small appliances. He was a hunter and a fisherman, with his favorite fishing destination being at the Snake River in Eastern Oregon. Although he would never be caught telling a fisherman's tale, it was not uncommon to catch him laughing so hard he was out of breath from telling a story that was so funny that he could barely even speak. He loved to tell a good story, teach a lesson, or preach from the bible. He will be greatly missed by many.
Robert was preceded in death by his parents, three sisters, and one brother. He is survived by his wife, Kay Stratton; sister Verna Henderson; daughter Kathy Woosley; daughter Kerry Osbourn and husband, Shown; son Robert Stratton, Jr., and wife Terri; step-children Missy Marquez and husband, Tony Gordiano, and Brandon Smith and wife, Roni; grandchildren and step-grandchildren Crystal Woosley, Dewaine Stratton, Shirelle Price and husband Sheldon, Nathan Stratton, Leah Stratton, Nicholas Osbourn, Wesley Osbourn, Alex Marquez and Andy Marquez, and Annette and Jimmy Gowen; great-grandchildren Dawnelle Guyton, Jordan Price, Skyler Price and Carter Miller; close friends, Mike and Kim Thomas, Tony Martin, Dave Gutierez and Leigh Stratton; and many other family and friends that are too plentiful to be able to mention them all.
We would like to make a special mention to Lisa, Bobbi, Donita, Galina and Doug from Heart of Hospice. He was very fond of all of you and very appreciative of your friendship and care.
Graveside service will be held at the Cascade Locks Cemetery on Saturday, Sept. 17 at 11 a.m.
In lieu of flowers, donations can be made in the name of Robert L. Stratton, Sr., to Heart of Hospice at 2621 Wasco Street, Hood River, OR 97031 (www.heartofhos-pice.org).
Arrangements are under the direction of Anderson's Tribute Center (Funerals • Receptions • Cremations), 1401 Belmont Ave., Hood River. Please visit AndersonsTributeCenter.com to leave a note of condolence for the family.
Services for Robert L. Stratton, Sr.
September 17, 2016

Graveside service: 11 a.m.
Graveside service will be held at the Cascade Locks Cemetery on Saturday, Sept. 17 at 11 a.m.