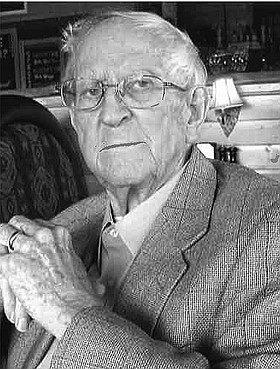 Dale William Glasgow
Hood River, Ore.
January 29, 1925 - August 27, 2016
Dale William Glasgow, at the age of 91, left us to be with God on Aug. 27, 2016. He has been in the care of Providence Hospice and his family for one month with pulmonary fibrosis. He was born Jan. 29, 1925, and raised in Iowa, the youngest of three siblings, all deceased. He met his wife, Ina, on Mount Hood, and they were married 63 years. His daughters and their families include Andrea (Alex) of Davis, Calif., Paula (Dan) of Colorado Springs, Colo., and grandchildren Hannah, Nathaniel, Gabriel and Rodney.
Dale enlisted in the Marines during World War II, and later graduated from Simpson College in Iowa with a bachelor's of science in physics. He received a Ph.D. from Oregon State University. His employment included General Electric, Duke University, and Los Alamos National Laboratory. Work at the laboratory included consultations in England and France. In 1994, he retired and moved to Underwood, Wash., to keep the bird bath filled and to relish the beauty of the area.
In his early years, Dale climbed most of the major mountains in the Northwest, including Mount Rainier, which was his favorite. The family frequently vacationed there. In New Mexico, he hiked the Sangre de Cristo and Jemez mountains. While he loved the outdoors, he was also a family man. He introduced his children to his pursuits and was proud of their hiking and career achievements. He really loved children.
Dale had a great interest in science. His desk was heaped with articles from scientists, and he authored many of his own. He was very interested in earth and the damage incurred from over-consumption, population and manipulation. He was humbled by God's creation and often gave statistics on the chemical, physiological, biological and electrical processes that showed the beauty and non-random chance of creation.
As a child, he learned about poverty, and developed an empathy and compassion for the poor. He worked at FISH Food Bank in Hood River for many years, and always contributed as much as he could to the needy.