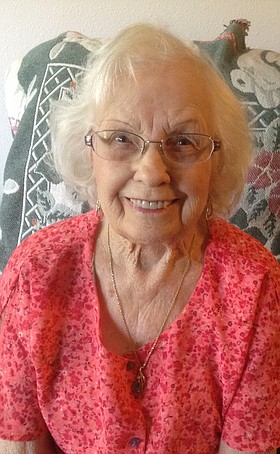 Ruth Evangeline Jones
Hood River, Ore.
March 26, 1921 - September 8, 2016
Ruth Evangeline Jones, a resident of Hood River, Ore., died Sept. 8, 2016, at the age of 95. She was born to Charles A. Flory and Agnes Tremain Sarber-Flory in Escondido, Calif., on March 26, 1921. Her mother died shortly after her birth. Ruth was the second of 10 children in the Flory family. She married Lloyd George Jones, the love of her life, in 1940 in Stanton, Calif.
After Lloyd was discharged from the Navy, they moved in 1947 to a farm and started a dairy in Outlook, Wash. In the Spring of 1957, Lloyd and Ruth moved their family to Hood River. They were pursuing a new adventure by purchasing the Pete Mohr orchard in the Pine Grove area. In 1963, her husband's desires to return to the dairy industry led them to purchase property on Tucker Road, north of Good News Gardening. This was the ideal location to build "Jones Boys Drive-in Dairy" that was operated by Lloyd, Ruth and family.
In 1983, they moved to Parkdale, Ore., on Woodworth Road to oversee the dairy hay farm. Ruth's husband of 59 years died on Oct. 14, 1999. During this time, they were blessed with seven children. Ruth is survived by her children Albert E. (Al) Jones (Betty L. Howard), Dairy, Ore.; Sue M. Baskins (Gene) Hood River; Lloyd G. Jones Jr. (Colleen Frigarrd), Hood River; Dr. Ronald D. Jones (Qing), Albany, Ore.; Kenneth D. Jones, (Debra), Lacey Springs, Ala.; Gene L. Jones (Judy), Hood River; Judith I. (Hup) Striech, Parkdale; and 22 grandchildren, 57 great grandchildren, and two great great grandchildren.
Ruth lived a life focused on God and her family. Her loving hands were always busy. In the time not devoted to her family's well-being, she loved to work in her flower garden, sewing, knitting and award-winning quilting. Additionally, she was always ready to play card games, especially SkipBo.
She volunteered six years at Hood River Memorial Hospital and six years at Hood River Adult Center Thrift Shop. She was also actively involved with the Busy Fingers Organization. After being semi-retired, she loved to travel with her husband. There never was a travel event that she was not eager to participate in.
By example, Ruth taught her children about hard work, kindness and how to age gracefully. Ruth and her husband provided a day-by-day example on how a family works, lives and loves together. This resulted in a great childhood experience and memories for all of their children and extended family members.
All who knew Ruth were truly blessed by her love. She will be dearly missed by all who knew and loved her.
Donations in Ruth's name can be made to Heart of Hospice, 2621 Wasco St., Hood River, OR 97031, or to Church of the Nazarene, 2168 Belmont Drive, Hood River, OR 97031.
A celebration of life will be held Monday Sept 12 at the Church of the Nazarene, 2168 Belmont Drive, Hood River, beginning at 1 p.m., with a reception to follow. The burial will be private.
Arrangements are under the direction of Anderson's Tribute Center (Funerals • Receptions • Cremations), 1401 Belmont Ave., Hood River.
Please visit AndersonsTributeCenter.com to leave a note of condolence for the family.
Services for Ruth Evangeline Jones
September 12, 2016

Celebration of Life: 1 p.m.
Church of the Nazarene, 2168 Belmont Drive