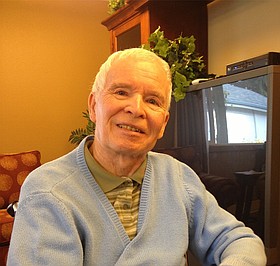 Orvin "Orv" Bernarr Olson
Hood River, Ore.
April 29, 934 - September 8, 2016
Orvin Bernarr Olson, "Orv" or "Orvie," 82, passed away peacefully on Sept. 8, 2016, at the Hood River Care Center in Hood River, Ore.
He was born to Orvin and Laurinda Olson in Oakes, N.D., on April 29, 1934. He had one younger brother, Chuck. The family moved to Portland, Ore., in 1944 during World War II, for Orvin Sr. to work in the shipyards. Orvin spent his boyhood days having adventures with his brother and friends, building forts, rafts and playing in the woods around the North Portland area where they lived. He was artistic and enjoyed woodworking. Times were tough; he saved his money and bought a jigsaw when he was 12. He designed and created wooden projects. Quite the entrepreneur, he would sell them around the neighborhood and even got orders at J.K. Gill's. Orvin graduated from Roosevelt High School. He was interested in electronics and engineering. He went to University of Portland to study engineering and also started working for a new company in Beaverton called Tektronix.
Orvin met Carol Dahl at the Peter Pan Drive-In. She worked as a waitress and was dressed as Peter Pan. After their first meeting Orvie said he was going to marry her, but the two lost track of each other until a friend set them up on a blind date a couple of years later. He recognized her as the Peter Pan girl. Orvin and Carol were married on Aug. 12, 1955, at St. Paul's Lutheran Church in Vancouver, Wash. The couple lived in North Portland after their marriage. Their first daughter, Laura, was born in 1957, Amy in 1959, and Diane in 1960.
Orvin graduated from the University of Portland with a degree in electrical engineering in 1958. Carol was a busy homemaker with the three girls. Orvin was a devoted husband and father, and a hard working provider. He enjoyed woodworking, arts and crafts, camping, fishing, and taking Sunday drives after church with the family. He took great pleasure in spending time with his children and eventually his grandchildren, working on projects and playing games. At Tektronix, his specialty was in cathode ray tubes and oscilloscopes. He later became a product safety engineer.
Orvin had a strong faith in God. In 1978, he took a two year leave of absence from Tektronix. He, Carol, and youngest daughter Diane went on a worldwide mission trip with Operation Mobilization, a ship ministry. They traveled to many countries distributing and selling books. When they returned, he continued working at Tektronix until taking early retirement after 35 years. He then continued doing consulting work as long as he was able.
During his retirement years, Orvin suffered many strokes and developed dementia. In 2010, they moved to Hood River to be near daughter Amy and her husband Scott. Even as the dementia progressed and Orvin's health declined, God gave Orvin so much grace throughout his situation. He never lost his kindhearted spirit or his beautiful smile.
Orvin is survived by his wife Carol, their children, Laura Olson (Terry) of Lincoln City, Ore., Amy McAllister (Scott) of Hood River, and Diane Hurst (Michael) of Vancouver, 17 grandchildren, Rose, Samantha, Natasha, William, Jesse, Seth, Sarah, Rachel, Nicole, Isaac, Ian, Reuben, Jolie, Lucy, Melinda, Molly, and James, as well as 18 great grandchildren, his brother Chuck Olson (Jeannine) of Woodburn, nephews Greg Olson, Geoff Olson, and Gordon Olson, and niece Gwen Rhodes.
Orvin was predeceased by his father, Orvin B. Olson, Sr., and his mother, Laurinda Olson.
A memorial service with reception will be held Saturday, Sept. 24 at 11 a.m. at Andersons Tribute Center, 1401 Belmont Ave., Hood River.
His family is very grateful for the years of compassionate care he received at the Hood River Care Center and the Heart of Hospice caregivers.
The family suggests donations may be made to Heart of Hospice, 2621 Wasco St., Hood River, OR 97031, in memory of Orvin.
"For I am convinced that neither death nor life, neither angels nor demons, the present not the future nor any powers, neither height nor depth, nor anything else in all creation will be able to separate us from the love of God that is in Christ Jesus our Lord." — Romans 8:38-40.
Services for Orvin Bernarr Olson
September 24, 2016

Memorial service: 11 a.m.
Andersons Tribute Center