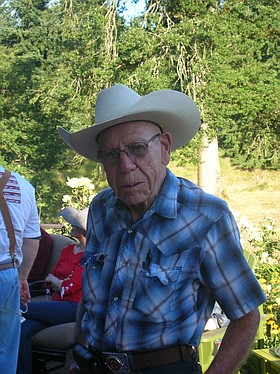 Calvin Grant Peck
Cascade Locks, Ore.
September 6, 1926 - September 12, 2016
Calvin Grant Peck passed away on Sept. 12, 2016, at 11:30 a.m. at his home in Cascade Locks, Ore., surrounded by family. He was born Sept. 6, 1926, and was 90 years of age at the time of his passing.

Calvin was born in Lone Tree, Mo., to Calvin Grant Peck and Yula Hall Peck. He had two brothers, William Peck and David Peck. They lived in Morris, Kan., for several years. Morris was an Embargo Town with lots of train traffic… the trains stopped there, the cattle were unloaded, fed and watered and then they were on their way again. Calvin claimed that they became so accustomed to the trains that they didn't hear them.
He lived in Kansas City and Turner, Kan., for several years before marrying Marie in 1954. Marie had two teenagers from a previous marriage, Mary Hutton and Bob Kent. Marie and Calvin had a son, Bill, born in Sept. 30, 1956. Marie passed away when Bill was 5 years old.
Calvin and Karen Brecheisen were married June 14, 1966, in Blue Springs, Mo. With Karen's five children, Bill and Grandma Peck, they were a busy household. Grandma Peck lived with them for two years. Bill Peck, Julie Beers, Rocky Brecheisen, Debra Dittbrenner, Verna Reynolds and Pam Morse are the Peck children.
The family moved to Melvern, Kan., for three years and moved to Lyndon, Kan., for five years. These two places were ranches and had cattle. Calvin loved rounding up the cattle from horse back. The family moved to the town of Lyndon for two years before moving west to Oregon. They looked like a modern-day wagon train with a U-Haul truck pulling another truck, and three cars full of people, a dog and lots of possessions. Calvin and Karen have lived in Cascade Locks for 39 years. The kids have married and moved to other locations.
Calvin had college training to be a state meat inspector and later as a locksmith. He also assisted the local veterinarian while living on the two ranches. He loved to help deliver a calf on a cold Kansas winter night. Calvin won many awards with his work through the V.F.W. and other organizations.

He was a jack-of-all-trades: truck driver, diver, ranch hand, locksmith, tow truck operator, meat inspector and others. If someone broke down on the road, he would tow them in to town and help them as he could, sometimes with a meal and even a place to sleep.
Calvin had many hobbies, including ceramics, art, puzzles, reading, movies, gardening, fishing, kayaking, and being an all-around handy man.
He was a life member of the V.F.W. Cooties, American Legion. He was a port commissioner and enjoyed port activities. Calvin also served in The United States Navy for a time.
Calvin is survived by his spouse, Karen Peck, Cascade Locks; children and their spouses, Bill and Tracy Peck, Beaverton, Ore., Julie and Dan Beers, Richland, Wash., Debra Dittbrenner, Stevenson, Wash., Verna and Kris Reynolds, Seattle, Wash., and Pam Morse, Cascade Locks; 11 grandchildren and their spouses; and 12 great grandchildren. Calvin had many friends and never met a stranger. There have always been lots of pets — Calvin had dogs through the years and he named them all Fred.
Calvin was a free spirit.
He was preceded in death by Calvin Peck, Sr., Yula Peck, Marie Peck, William (Bill) Peck, David Peck and Rocky Brecheisen.
Memorial services are planned for 1 p.m. on Saturday, Oct. 1 at the Cascade Locks Pavilion, 395 SW Portage Road, Cascade Locks, with a potluck lunch to follow.
In lieu of flowers, you may donate to Hearts of Hospice or American Cancer Society.
Arrangements are under the direction of Anderson's Tribute Center (Funerals • Receptions • Cremations), 1401 Belmont Ave., Hood River, Ore.
Please visit AndersonsTributeCenter.com to leave a note of condolence for the family.
Services for Calvin Grant Peck
October 1, 2016

Memorial service: 1 p.m.
Cascade Locks Pavilion, 395 SW Portage Road, Cascade Locks