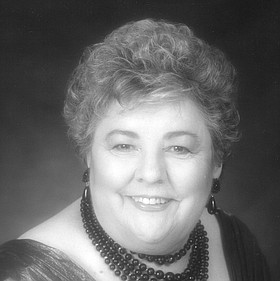 Jeanne M. Shelton
Dallas, Ore.
November 25, 1929 - August 19, 2016
Jeanne M. Shelton passed away in Dallas, Ore., on Aug. 19, 2016. She was born on Nov. 25, 1929, in Peedee, Ore., to Katherine (Lacey) and James Siddall.
During her life, Jeanne lived in Dallas, Hood River, Springfield, Pratum and Salem. She died at Dallas Retirement Village after seven months of hospice care.
Jeanne graduated from Dallas High school in 1947. Professionally, she excelled as a bookkeeper in a number of locations, first in the family business of Dallas Music Shop with then husband Harvey Bartel.
She was proud of her work at a Hood River freight line, becoming an early female member of Local 883 of the International Brotherhood of Teamsters: Chauffeurs, Warehousemen and Helpers of America. Her beautiful smile accompanied her throughout her life and relationships with others.
Jeanne was a lifelong Oregonian, visiting very corner of the state to fish, hunt and photograph wildflowers. She travelled widely, and particularly enjoyed trips to Hawaii, Alaska, Australia, New Zealand, the Cook Islands, Grand Cayman and many other Caribbean countries. Her interest in travel integrated with her love of learning found her attending numerous Elderhostels as diverse as sea kayaking, computer skills and geology/naturalist subjects. She independently drove across the country in both car and RV trips, travelling as far as Maine.
She is survived by her daughters Sheri Bartel Tonn (husband Jeff Tonn) and Lavon Bartel (husband David Struck), stepdaughter Sharon Shelton Linnertz (husband Ron Linnertz) and step-grandchildren. She is also survived by sister Violet Faye Starks Fetters and many nieces and nephews. Sisters Helen Dart, Lois Miller and Emma Sanders and stepson Wayne Shelton passed away before her, as well as her father, mother and infant son. Her second husband, Howard Shelton, passed away in 1992.
The family is grateful to the staff of Willamette Valley Hospice and Dallas Retirement Village for providing comfort and care in her last days. Her niece JoAnn Frink was a frequent visitor, a huge support to Jeanne, and a provider of chocolate.
The family will hold a celebration of her life on Nov. 20 from 1:30-4 p.m. at the Polk County Historical Museum, Independence, Ore. Please send remembrances to Willamette Valley Hospice, the Polk County Historical Society or Shriners Hospital for Children, Portland, Ore.
Services for Jeanne M. Shelton
November 20, 2016

Celebration of Life: 1:30 p.m. to 4 p.m.
Polk County Historical Museum, Independence, Ore.