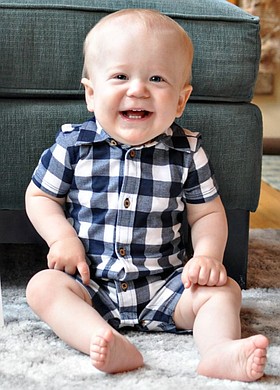 Jameson Rainier Mott
May 19, 2015 - September 18, 2016
Jameson Rainier Mott, age 16 months, passed away peacefully in his sleep on Sept. 18, 2016. He is survived by his loving parents, Jonathan and Courtney Mott, his grandparents, John and Roma Mott, Chris Maxfield, and Scott Wands, as well as many other family members and friends.
The list of things Jameson loved is short: 1. Everything. End of List. Jameson brought so much joy and love into this world and we were all so lucky to have known him. Anyone who met him knew that he had a special spark and that he brought so much light with him wherever he went. Although his death was unexpected, we were able to spend a wonderful last day with him as a family and we will always cherish that.
An informal gathering, open to all who knew him, to celebrate Jameson and remember all the joy he brings to our lives will take place this Friday, Sept. 23 from 5-8 p.m. at the Crag Rat Hut, 960 Crag Rat Road.
In lieu of flowers, donations made in Jameson's name to Doernbecher Children's Hospital in Portland, Ore. would be very meaningful to the family: Doernbecher Children's Hospital, 3181 S.W. Sam Jackson Park Road, Portland, OR 97239-3098.
Arrangements are under the direction of Anderson's Tribute Center (Funerals • Receptions • Cremations), 1401 Belmont Ave., Hood River. Visit www.AndersonsTributeCenter.com to leave a note of condolence for the family.

Services for Jameson Rainier Mott
September 23, 2016

Celebration of Life: 5 p.m. to 8 p.m.
Crag Rat Hut, 960 Crag Rat Road, Hood River