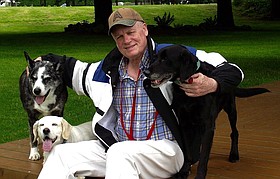 William "Nick" Nicholas Denton III
White Salmon, Wash.
unknown - September 9, 2016
William Nicholas (Nick) Denton III passed away peacefully at his home in White Salmon, Wash., on Friday, Sept. 9, 2016.
Nick was a caring husband of 43 years to Melanie, and father to Skyler, Caden and Cali.
He is survived by his family members by blood relation: his little sister Barbara Leigh, his sister-in-law Victoria, and his mischievous nephews Bruce, Brad, Erik, and Devon. Nick also called his family the dear friends and neighbors in the community of Brislawn Loop, White Salmon, and the Gorge who are already feeling his loss. Nick was preceded in death by his faithful children Cody and Casey and will be fondly remembered by family and friends as a loving husband, father, uncle and friend.
Nick was known for his zest for life and travel. As a proud member for 30 years of the American Red Cross Disaster Relief Management team, he traveled and assisted around the globe when emergencies arose.
His career also included 30 years in corporate management, 18 years with Reader's Digest Association, ending his career there as director of New Business Development.
Nick was an alumnus of Washington-Lee University in Lexington, Va., and a veteran of the U.S. Navy.
His wife, Melanie, is proud owner of Signs & Designs of White Salmon. Nick will be deeply missed.
Now He's Gone
He slipped away.
In this place of space and time,
I wonder where l belong.
I hold his hand and keep him close to me,
scared of how it's going to be ...
He faded fast and left me here.
I ask myself these words of fear,
It's ok to be so scared!
Are you just afraid of being alone,
coming back to our empty home.
I'm ready now to say goodbye,
1'II wipe our tears and wonder why ...