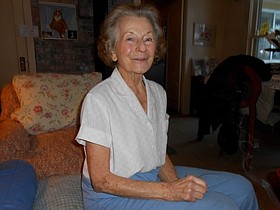 Betty Hazel Johnson
Hood River, Ore.
January 3, 1923 - September 20, 2016
Betty Hazel Johnson passed away on Sept. 20, 2016, in Hood River, Ore. She was 93. She was born in Ogden, Utah, on Jan. 3, 1923, the eldest daughter of Carl Christian Rasmusson and Hazel Viola Hewitt, and lived in Ogden as a child.
The Depression forced the family to move to Long Beach, Calif. Her mother passed away unexpectedly when Betty was a teenager. Into her 90s, Betty (or as she was known in Hood River, Bette) still recalled with great grief the loss of her "Mama" at such a young age.
Bette met her husband, Albert Johnson, while working at a southern California bank, and they married in 1946. They lived in the San Francisco area until the 1960s, when they moved to Portland, Ore. They retired to their small farm in Odell, Ore., in 1974. Albert passed away at their home in 1989. Bette always said that her home overlooking the beautiful Hood River valley was truly "Heaven on Earth." She spent the rest of her life there, until illness in the last few months required that she leave her beloved home.
Bette was renowned throughout the Columbia Gorge for her artistry. She enjoyed painting the varied landscapes and beautiful flowers that surrounded her home, and equally enjoyed sitting and painting at other venues throughout the area. She studied painting formally at the Peninsula Arts and Crafts School in Burlingame, Calif., but most of her artistic training came informally from her insatiable curiosity and experimentation with many different mediums. On any day, passersby were likely to see Bette, laden with art materials and a folding chair, traipsing through the local landscape in search of the perfect place to paint. Her beloved friend, Peggy Dills Kelter, often joined her. They painted together for many years.
Bette's paintings hang in many homes and businesses, including the dialysis department at Providence Hood River Memorial Hospital. In 1995, her painting of an orchard in bloom was selected to adorn the Apple Jam Music Festival poster.
Unknown to many, Bette was also a talented cartoonist. She delighted in drawing caricatures, often giggling as she brought the characters to life on paper. She was the genius behind the Ugly Local cartoons. She depicted the year-round residents of our community with wit and humor. Her delightful cartoons took a derogatory comment — "There are lots of ugly locals here in Hood River" — and turned it into a symbol of local pride. Her designs were printed on shirts and worn by hundreds of local citizens. Recently, these same caricatures were used as a fundraiser for the local United Way.
Bette was also dedicated to taking care of animals, be they feathered or furred. She rescued abandoned cats and dogs, bought expensive nuts for the local squirrels, fed most of Odell's bird population, and loved her own pets as though they were her children. The wild and domestic critters often ate better than she did.
Bette is survived by her nieces Karen, Natalie and Lisa and nephew Brian and their spouses, cousin Barbara Yerrington and special friends and neighbors Peggy Dills Kelter, Diane and Joe Orcutt, and Leslie Yasui. Her brother Keith and sister Janice preceded her in death.
A graveside service will be held for Bette at 2 p.m. on Saturday, Oct. 22 at Pine Grove Butte Cemetery, 2687 Van Horn Drive, Hood River.
Donations in her memory may be made to the Hukari Animal Shelter, 3910 Heron Drive, Hood River, OR 97031; Home At Last Humane Society, 200 River Road, The Dalles, OR 97058; or the Rowena Wildlife Clinic, 6900 Hwy. 30 The Dalles, OR 97058.
Arrangements are under the direction of Anderson's Tribute Center (Funerals • Receptions • Cremations), 1401 Belmont Ave., Hood River.
Visit AndersonsTributeCenter.com to leave a note of condolence for the family.
Services for Betty Hazel Johnson
October 22, 2016

Graveside service: 2 p.m.
Pine Grove Butte Cemetery, 2687 Van Horn Drive, Hood River