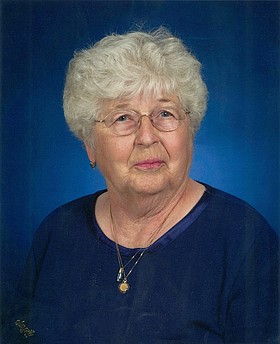 Berna "BJ" Jean Carter
Hood River, Ore.
June 25, 1930 - September 23, 2016
Berna Jean "BJ" Carter passed away Sept. 23, 2016, at Parkhurst House in Hood River, Ore. She was born June 25, 1930, to Lawrence and Paula (Bradbury) Edelblute in Rathdrum, Idaho, the second eldest of nine children. But she spent most of her idyllic early childhood growing up in the great outdoors in Headquarters, Idaho, a company logging town of Potlatch Corporation. She often said, "I don't know how I would have made it if it had not been for the very healthy childhood I had," crediting that experience as giving her the strength and courage to endure challenges that life would bring her.
Her first challenge came at age 12, when her father moved the family to Lewiston, Idaho, for fear of the eight miles of dangerous road to the nearest high school had they remained at Headquarters. With the move, the growing Catholic family would only see their father on weekends. His job as assistant superintendent over all of Potlatch's logging camps meant traveling far and wide, managing the Clearwater River logging drives each spring. Her mother had great difficulty prioritizing her time and managing the five children, so it fell to Berna and her 13-year-old brother to take charge keeping the household running. Over the seven years four more children would be added to the family. She recalled frustration that the family often didn't eat until late in the evening and remembered being late getting to school herself on account of needing to take each sibling, one by one, to school on her bike. There was a cow to be milked, chickens and rabbits to be fed, wild alfalfa to be picked.
It was a natural fit that Berna later aspired to become a registered nurse, graduating from Spokane's Sacred Heart Nursing School. It was here that the hardworking and ambitious Berna was taken with another hard working and ambitious Grant Saulie, a student at Gonzaga Law School. She became Mrs. Grant Saulie while still in nursing school. Sadly, Grant came with problems that he couldn't overcome and which impacted the family negatively, giving her much grief. As a result, she largely raised her own four children as if she were a single parent, later returning to nursing after a 20-year hiatus. To compound matters, she lost her father in a logging accident to the same woods she was so fond of. Her mother's subsequent "nervous breakdown" meant the older siblings took in the younger. She had long since become caregiver and substitute mom, a role she would embrace throughout her life. She was counsel and comfort to her adult siblings, who sought her advice in time of need.
As a mother, Berna was a "doer" for all intents and purpose. The fact that she didn't have another adult to help never held her back from the many activities she pursued with her children, striving to give them "a well-rounded education." Independent and courageous, she ventured deep into the woods to pick huckleberries or mushrooms. She ventured to the coast to dig razor clams. She ventured to the primitive Red River Hot Springs inhabited with bears. There were countless trips chauffeuring to music lessons, art lessons, ballet, symphony, family reunions, skiing and weekly Mass, to name a few. Everyone must learn a musical instrument, she declared, and with the exception of getting to come in the house for lunch, everyone must play outside all day no matter the weather! At the end of the day she was satisfied and very proud of the way her children turned out.
"Save the best" for last would describe Berna's second marriage to the widowed Grover Carter, MD. She had come to know him working alongside him at Hood River Memorial Hospital. She retired from nursing at 68, after having worked all the various departments at the hospital: ED, OB, Med-Surg, ICU and surgery. "I did it all," she liked to say. She couldn't say enough good things about Grover or stop repeating what "a wonderful man" he was. She was so grateful to be blessed with 20 years of marriage to him. They loved to travel. She saw the world with him. He preceded her in death in 2008. It gave her children great comfort to know that at last, peace and happiness had come to their deserving mother. She was a woman of great strength, courage and a woman ahead of her time. She will be greatly missed.
Survivors include four children, Mary Kay Saulie of Chattanooga, Tenn., Janet Saulie of Lummi Island, Wash., Barbara Saulie of Lynden, Wash., and John Saulie of Spokane, Wash.; six siblings, Teresa Avery of Olympia, Wash., Terry Edelbute of Cour d'Alene, Idaho, Cornelia Faur, of Cottonwood, Idaho, Walter Edelblute of Rathrum, Idaho, Nancy Hawkins of Merced, Calif., and Mark Edelblute of Lewiston, Idaho; 11 grandchildren, Fletcher, Melissa, Johnny, Holly, Neil, Joel, Andrew, Emily, Brendan, Axel and Colin; six great-grandchildren, Kaia, Simon, Mia, Sebastian, Harvey and Ryan.
Services are planned for 10 a.m., Saturday, Oct. 8 at St. Mary's Catholic Church, 1501 Belmont Ave., Hood River. A reception will follow at the family home.
Arrangements are under the direction of Anderson's Tribute Center (Funerals • Receptions • Cremations), 1401 Belmont Ave., Hood River. Visit AndersonsTributeCenter.com to leave a note of condolence for the family.
Services for Berna Jean Carter
October 8, 2016

Funeral: 10 a.m.
St. Mary's Catholic Church, 1501 Belmont Ave., Hood River